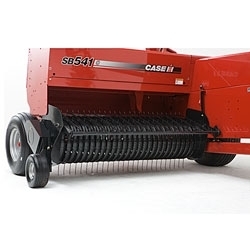 Custom baling operators rely on bales of consistent size that meet the expectations of livestock owners
Racine, WI (PRWEB) August 12, 2009
Case IH small square balers are known for their ruggedness and ability to perform in the toughest of baling conditions. The introduction of the new commercial model Case IH SB541c - a small square baler tough enough for hay producers who measure success by the thousands - boosts this level of reliability up another notch with even more heavy-duty engineering.
"When we talk with Case IH customers who bale thousands of acres a year, they consistently tell us they want a heavy-duty baler that can handle challenging baling conditions, season after season," says Shawn Boone, Case IH livestock marketing manager. "This machine is built to stand up to long days of continuous baling and, when maintenance is required, this baler makes serviceability simple."
Features for more durability
The SB541c is more durable than ever thanks to heavy-duty, hydraulically controlled, side tension rails. The rails are bent to bias pressure toward the plunger bale forming area. The lower cross rail is heavier to prevent bending at maximum pressure.
Case IH engineers also replaced the front set of sheet metal hay wedges with cast iron. "Heavier hay wedges help prevent collapse and failure in straw," explains Boone. "The cast iron also increases the strength of the wedges for a longer life."
Commercial operators will appreciate that the SB541c features a bale case that is 12 inches longer and 0.76 millimeters thicker than the standard SB541 model. "The longer bale case means improved bale shape and easier handling of the bales," says Boone.
Productivity features remain standard
The new SB541c baler retains the high-capacity features that are trademarks of Case IH small square balers: wide pickups, smooth rotary feeding systems and gear-driven knotters and twisters with hard-surface material at all wear points.
"Custom baling operators rely on bales of consistent size that meet the expectations of livestock owners," says Boone. "Case IH balers are designed to meet these demands with bales that are of consistent size, shape and density."
Density control is handled simply by adjusting tension applied to the bale chamber. The SB541c has a fast plunger speed and long plunger stroke that packs uniform, dense bales in all crop conditions. The high-strength steel is used throughout the plunger mechanism, and the plunger rail has been hardened for longer life.
Another feature of the SB541c model is a heavy-duty twine box that can accommodate eight bales of twine so producers can keep baling longer without rethreading. The box is located at the rear of the baler and has a hinged lid to keep twine clean and dry. Other improvements include larger wheels and tires, as well as a choice of clevis or ball-type hitch.
Case IH is a global leader in agricultural equipment, committed to collaborating with its customers to develop the most powerful, productive, reliable equipment - for those who demand more. With headquarters in the United States, Case IH has a network of dealers and distributors that operates in over 160 countries. Case IH provides agricultural equipment systems, flexible financial service offerings and parts and service support for professional farmers and commercial operators through a dedicated network of professional dealers and distributors. Productivity enhancing products include tractors; combines and harvesters; hay and forage equipment; tillage tools; planting and seeding systems; sprayers and applicators; and site-specific farming tools. Case IH is a brand of CNH (NYSE: CNH), a majority-owned subsidiary of Fiat Group (FIA: MI).
###