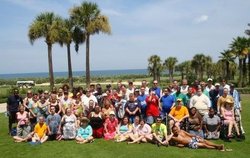 Thank you, Julia, for the wonderful opportunity you are providing these young adults.
Atlanta, GA (PRWEB) September 15, 2010
Storefloors is pleased to support the charitable efforts of its employees. Julia Versteegh, Business Development Manager for Storefloors, volunteers in her spare time with a metro Atlanta YMCA program, The Happy Club, that provides weekend social opportunities to teens and adults with developmental disabilities. Storefloors is a single source commercial flooring dealer providing all types of flooring and related consulting services to retail and restaurant chains internationally.
At the end of August, The Happy Club embarked on its eleventh annual end of summer beach trip, each of which Julia Versteegh has been a part of. Julia served as the co-organizer and a chaperone for the four day trip. Storefloors supported the endeavor by providing the time for planning the excursion during business hours as well as paid time off during the trip. There were 71 beach goers including 26 volunteer chaperones. The club and this trip provide a wonderful opportunity for developmentally disabled adults to participate in social activities with their peers without parental supervision. It's great giving the group the ability to go on a spring-break like trip that they would likely not otherwise have the opportunity to do. Julia comments, "Of course it's wonderful for them to spend a few days at the beach but my favorite part is the evening when the group gathers at a local establishment and dances to the beach music of a live band. It's because music is a universal language and brings different types of people together like magic. Our group's energy is infectious and other vacationers and locals join us on the dance floor and it's a great time for all. It's an eye opener for many people who don't know someone with a disability." The weekend is fun and rewarding but chaperoning is also hard work requiring constant attention and supervision from dawn until late-night.
Earl Wasserman, CEO of Storefloors commented, "I have for my entire career been involved in philanthropy in Atlanta and I'm never more proud or appreciative than when members of our Storefloors family also give back to the community. We feel it a privilege to be involved in those endeavors. Thank you, Julia, for the wonderful opportunity you are providing these young adults."
###