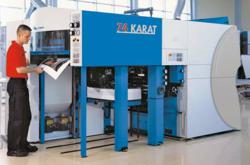 With the online design studio, clients can choose to design their materials right on the website.
Surrey, BC (PRWEB) May 28, 2011
Canadian CD DVD Manufacturing company Precision Disc Manufacturing Corp. is pleased to announce their foray into the world of Commercial Printing with the launch of their new brand "Precision Printing" and its web-to-print website.
As a market-leader in providing low-plastic and no-plastic packaging alternatives for their CD and DVD products, and putting a strong emphasis on utilizing 'green' equipment, processes and materials, Precision Disc felt that applying themselves to the more traditional print market was an obvious and natural progression - and so Precision Printing was born.
"We had already invested in the right equipment, processes and materials for our CD and DVD packaging solutions," explains General Manager Mike Arnold, "so we felt it made perfect sense to evolve into a commercial print provider."
At the heart of their printing abilities sits their KBA 74 Karat 29" waterless digitally integrated offset press - considered to be one of the 'greenest' print presses on the planet while also delivering very high quality print reproduction for discerning clients.
The KBA 74 Karat press does away with paper waste, ink sludge, toxic cleaners and chemical developers that are typically associated with offset printing. Through its use of soy based inks, completely waterless printing technology, and inline aqueous coating, the KBA 74 Karat provides the highest level of eco-friendliness without sacrificing print quality one bit.
In addition to their offset printing capabilities, Precision Printing also has its digital printing needs sewn up very nicely with HP Indigo printers for smaller quantity orders, as well as Canon imagePrograff printers for large format printing requirements.
The 'cherry on top' for Precision Printing is their full-featured web-to-print website which provides visitors with a host of product choices, pricing, and even the ability to design their own materials using the site's online design studio.
All of the most popular promotional products are on the site which includes: Posters, rack cards, postcards, business cards, brochures, flyers, and much more.
"Yes, the web-to-print site for Precision Printing has been well received by our customers." confirms Arnold, "With the online design studio, clients can choose to design their materials right on the website or they can upload their print ready files through the sites FTP. Design, ordering and payment can all be done right there."
###