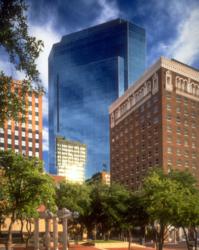 Add a quotable
Jacobs signed a 10-year lease renewal for 75,627 square feet at 777 Main in downtown Fort Worth
FORT WORTH, TEXAS (PRWEB) January 22, 2013
Crescent Real Estate Holdings LLC announced today that Jacobs Engineering Group Inc. (Jacobs) signed a 10-year lease renewal for 75,627 square feet at 777 Main in downtown Fort Worth. In addition, Willbros Group, Inc. expanded for the second time in a year. Willbros signed a 7-year lease for a full floor of 22,918 square feet at 777 Main which is 94 percent leased.
The iconic Fort Worth office building currently is undergoing significant building improvements including lobby renovations that will feature updated, stream-lined lighting and furniture. Concourse and valet lobby renovations and new 777 Main signage will be complete soon. Ground-floor lobby renovations will be complete in the first quarter 2013.
Jacobs is one of the world's largest and most diverse providers of professional technical services, with a global network that includes more than 200 offices in over 25 countries, operating in North America, the United Kingdom, mainland Europe, India, Australia, Africa and Asia. Whit Kelly, senior vice president of Fort Worth's Jones Lang LaSalle, represented the owner, MS Crescent One SPV, LLC. Eric Olofsen with Cushman & Wakefield Los Angeles and Matt Heidelbaugh with Cushman & Wakefield Dallas represented Jacobs.
Willbros Group, Inc. is an independent contractor serving the oil, gas, power, refining and petrochemical industries. Willbros provides engineering, construction, turnaround, maintenance, life-cycle extension services and facilities development and operations services to industry and government entities worldwide. The Willbros 7-year expansion lease on 777 Main's 23rd floor was effective January 1, 2013. Whit Kelly, senior vice president of Jones Lang LaSalle, represented the owner, MS Crescent One SVP, LLC. Kirk Kelly with Transwestern and David Guion and Joe Peddie with Cushman & Wakefield represented Willbros.
About Willbros expansion, Whit Kelly said, "It's exciting to see the growth and success that Willbros has been experiencing. Fortunately, we were able to get creative and accommodate their space needs at 777 Main. The timing of Jacobs' decision to consolidate on floors 24, 25, and 26 was perfect for Willbros to secure floor 23."
777 Main is a 40-story, Class A office property located in the southeast quadrant of Fort Worth Central Business District (CBD). The 954,895-square-foot, green glass-paneled icon was developed in 1982 and is home to a prestigious customer base including Jacobs Engineering Group Inc., FTS International Services, LLC, and many law firms and energy companies. 777 Main is also home to Crescent Real Estate's corporate headquarters.
ABOUT CRESCENT
Crescent Real Estate Holdings LLC, headquartered in Fort Worth, Texas, is a fully-integrated real estate company owned by Barclays Capital and Goff Capital. Through its subsidiaries, Crescent owns or manages a portfolio of 25 premier office buildings totaling over 9.2 million square feet located in select markets across the United States with major concentrations in Fort Worth, Dallas, Houston, Denver and Las Vegas. Crescent also holds investments in resort residential developments in locations such as Scottsdale, Vail Valley, and Lake Tahoe; a luxury hotel, The Ritz-Carlton, Dallas; and the wellness lifestyle leader, Canyon Ranch®. For more information, visit Crescent's Web site at http://www.crescent.com.
# # #