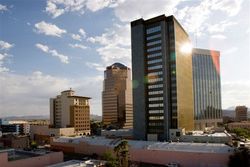 We want to arm potential tenants and buyers with an accurate picture of our market conditions
Tucson, AZ (PRWEB) October 7, 2008
According to Commercial Real Estate Group of Tucson research, nearly 110,000 square feet of new industrial real estate will come into the Tucson, Arizona market in the next few months, giving businesses fresh choices on where to locate their operations.
Only about 26 percent of the space under construction at mid-year 2008 was preleased, according to the CoStar Industrial Report for the Tucson market.
"There are some good opportunities down the road for tenants and buyers to find new space that ideally fits their needs," said Michael S. Coretz, a broker with Commercial Real Estate Group of Tucson.
Tucson's industrial real estate market reflects national trends of increasing vacancy rates, a drop in net absorption and smaller increases in rental rates, the report said.
The Tucson metropolitan area in Southern Arizona currently has about 2.6 million square feet of vacant industrial space. Quoted rental rates are at $8.76 a square foot.
Commercial Real Estate Group of Tucson has compiled these and other meaningful statistics about the local market on its website, http://www.cretucson.com . "We want to arm potential tenants and buyers with an accurate picture of our market conditions," said Coretz. "That can only help them make smart, informed choices, especially in this current economic condition of tight credit."
Commercial Real Estate Group of Tucson represents corporate clients and buyers, assisting them in locating, negotiating and leasing or buying business space in the Tucson metropolitan area. Its website, http://www.tucson-tenant-representation.com ], provides several reports on how to navigate the commercial real estate transaction. More information is available by phoning 520-299-3400.
# # #