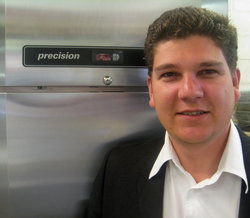 The commercial refrigeration market is in a state of flux
(Vocus) July 15, 2008
One of the most famous names in refrigeration has joined Precision Refrigeration Limited. Nick Williams, son of Williams Refrigeration founder Mike, has been appointed Managing Director at the company. Nick is one of the industry's most experienced figures, having spent many years in what was then the family business, prior to its sale to Aga Foodservice. His responsibilities included opening up overseas markets in France and the USA.
The appointment heralds a tremendous leap for Precision. Started only four years ago, the British manufacturer has already taken a significant share of the quality end of the UK commercial refrigeration market, especially in niche markets such as counters. Now the company has big plans for expansion.
Sales Director Jeremy Hall says: "We already have the capacity and a skilled workforce. To realise our ambitions we now need additional top level management. Nick brings enormous expertise in refrigeration and exports - he'll be invaluable in helping us open up overseas markets such as Hong Kong and the Far East, the Middle East and the Americas."
Nick Williams and Jeremy Hall will be focusing on building sales and creating a platform for more products and increased production capacity. Meanwhile Production Director Andy Fysh has been tasked with new product development - including the development of blast chillers and a new heavy-duty domestic range.
"The commercial refrigeration market is in a state of flux," says Nick Williams. "The strength of the Euro, which is affecting imports and raw materials, plus changes in ownership and major changes in market requirements have left some of our key competitors in turmoil. Precision has the flexibility and drive to meet the challenges. There are big opportunities - now is the right time to move the company up to the next level."
For more information check out the Precision website (http://www.precision-refrigeration.co.uk), or call the company directly on +44 (0)1842 753 994.
Press Enquiries:
Toni Turner or Alison Haynes at The Publicity Works
Tel: 01263 761000
Email: precision @ publicityworks.biz
Jeremy Hall at Precision Refrigeration: +44 (0)1842 753 994
More information on Precision from http://www.precision-refrigeration.co.uk
Separations charge enquiries: offers can only be accepted by fax on 01263 761009.
All offers are considered. We will call you if the answer is 'yes'. Otherwise the answer is, regrettably, 'No'.
Notes for editors
Who Is Precision?

Precision is the newest name in robust, dependable, UK-manufactured refrigeration for commercial catering environments. Precision Refrigeration is run by people who know what matters most in a busy, demanding kitchen. Directors include Jeremy Hall, Nick Williams and Mike Williams, all ex-Williams Refrigeration.
Back bar, upright gastronorm cabinets and prep counters are manufactured in stainless steel inside and out - delivering the quality and reliability that you expect from a market leader, but at significantly better prices.
Precision is about good, solid, functional products that caterers and their customers can depend on, 24 hours a day, 365 days a year. All products are backed with a straight-talking, no quibble guarantee.
###