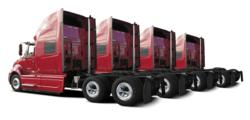 Our work continues to stay current with all new wheel designs
Gurnee, IL (PRWEB) September 28, 2011
After more than 20 years of experience in developing aerodynamic wheel products for the commercial truck industry, RealWheels Corporation (RWC) continues to engineer and refine their Aero-Series wheel covers. These American-made product innovations are the constant focus of the RWC engineering staff, in order to meet increased demands and evolving truck technologies.
The Aero Series consists of precision-engineered wheel covers that streamline the turbulent air caused by the rotating deep-well cavities of commercial truck wheels. RWC has worked alongside fleet professionals throughout the industry to address installation, maintenance, and inspection requirements. The amount of time that industry experts are dedicating to these designs is a clear indication that fleets understand the money-saving benefits that result from improved aerodynamics.
"There's no question that saving fuel is a combination of efforts," explains RWC President Jan Polka, "but advancements in aerodynamic engineering have shown the greatest immediate impact, and that continues to be our focus."
Many fleet directors agree that the most effective ways to save fuel combine changes to both aerodynamics and the driver's behavior. RWC also made aerodynamics a top priority as fuel prices soared. Their in-depth real-world testing consistently showed a fuel cost savings of 1.5% to 3% when Aero Covers were installed on both tractor and trailer. That amounts to a full return on investment in as little as four to six months.
"Demand has grown significantly now that the industry has a better understanding of aerodynamics," continued Polka. "We also knew that the wheel and tire manufactures would need to adapt to the new requirements of fleets as well. So, our work continues to stay current with all new wheel designs."
Polka and the entire engineering staff at RWC have successfully stayed current with the many wheel design changes prompted by fuel-saving initiatives, industry wide. Currently RWC has an Aero design and mounting system to fit ANY 22.5" or 24.5" truck or trailer wheel on the market, even the new wide-base wheels with zero offsets.
About RealWheels Corporation
RealWheels Corporation has been designing and producing wheel covers, hub covers and other wheel accessories for the commercial truck market for over thirty years. For more information on the Aero Covers and other RealWheels products, visit http://www.RealWheels.com/aerostyle.html.
###