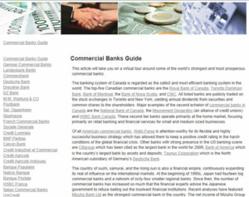 We wanted to shed light on the importance of commercial banks for our society and business development
Toronto (PRWEB) November 07, 2012
Art Branch, Inc. today announces the release of CommercialBanksGuide.com (http://www.commercialbanksguide.com), intended for people who are interested to learn more about commercial banking.
The new website was developed by the web design and development teams at Art Branch Inc. The guide is the result of extensive research and aims to answer the most popular questions people ask about commercial banking.
"We wanted to shed light on the importance of commercial banks for our society and business development," said John Williams, marketing consultant at Art Branch Inc.
CommercialBanksGuide.com offers comprehensive guides on the top commercial banks in developed countries such as the United States, United Kingdom, Canada, Germany, France, and Japan.
There are many types of financial institutions, including commercial, investment, retail, and private banks. Some people believe that there is a world of difference between them while others think that they offer the same products and services. The goal of CommercialBanksGuide.com is to explain what commercial banks do and to review some of the major commercial banks in the developed world.
Commercial banks are financial intermediaries with expertise in appraising, accounting, negotiating, and collecting. They offer currency-specific credit cards, corporate checking accounts, and other services that facilitate foreign trade and transactions. Commercial banks have thousands of clients and a high volume of operations. They have a varied customer base, from institutional clients to customers who have been traditionally marginalized from the mainstream banks. Commercial banks have an extensive network of branches and a well developed technology infrastructure, including ATMs and management information systems. Banks have risk management systems that allow them to handle a high volume of financial transactions. Their employees have expertise in different areas, including accounting, legal management, marketing, and information technologies. With a large resource base and employees with diverse backgrounds, commercial banks are full service financial partners of small and large businesses. They offer a variety of products and services, including asset and liability products, custodial services, investment advisory services, and many others.
About CommercialBanksGuide.com: ComemrcialBanksGuide.com is website created by Art Branch Inc., focused on explaining the importance of commercial banks and commercial banking.
About Art Branch: Art Branch Inc., located in Toronto, Ontario, is the parent company of CommercialBanksGuide.com and has produced many consumer oriented websites targeting worldwide audience. The goal of Art Branch is to provide visitors to company sites with free, practical guides, helping consumers make educated choices.