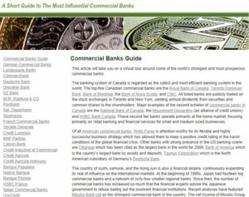 A good and usable design increases user engagement and helps to build trust, which are crucial factors if you want to succeed in the online world
(PRWEB) February 21, 2013
CommercialBanksGuide.com (http://www.commercialbanksguide.com) announced today the recent re-design of the commercial banking website, which is intended for people who are interested to learn more about banking.
Created by the web design and development team at CommercialBanksGuide.com, the new design took about two weeks of intensive work. The design was introduced after an extensive research on many world-class website designs. The goal is to make sure that the redesigned website has an eye-pleasing and user-friendly design. The old design was tired and not good enough for the visitors. The new, modern look allows CommercialBanksGuide.com to evolve and become future-friendly.
"A good and usable design increases user engagement and helps to build trust, which are crucial factors if you want to succeed in the online world," said John Williams, marketing consultant at CommercialBanksGuide.com.
The popularity of CommercialBanksGuide.com has steadily increased over the last couple of months. The new design has improved usability and enhanced the framework. Visitors can browse through more than 100 reviews of commercial banks such as the National Bank of Canada, Deutsche Bank, Barclays Bank, Northern Trust Corporation, and many others. The new design is user-friendly and allows visitors to locate information quickly. The website features an easy navigation menu, which makes it more attractive for the visitors of CommercialBanksGuide.com. This allows the website to offer superior web experience to visitors.
Poor organization of data, layout, and navigation design often result in poor user experience. A consistent, well designed web site improves usability and accessibility. Highly functional websites are popular with visitors because they are easy to navigate and explore. If information is hard to find or read or visitors get lost, they leave. When the guides and reviews that are offered on a website don't answer key questions, visitors leave. Users leave when a website is hard to use. They return when they find valuable information and enjoy interacting with the website. The goal of the redesign of CommercialBanksGuide.com is to offer a modern look and improved usability to visitors and engage and attract new audiences.
About CommercialBanksGuide.com: ComemrcialBanksGuide.com is a website focused on explaining the importance of commercial banks and commercial banking.