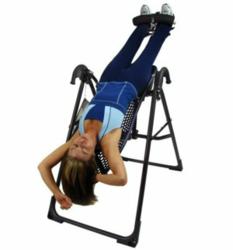 It is just infuriating that I wasted so many hours of therapy when Teeter had a 5 minute a day, permanent solution on offer.
(PRWEB UK) 25 July 2012
Any golfer knows that one little point of back discomfort in a game will be compounded until the pain builds up after a full round. There are various 'quick fix' solutions available on the market. Such as heat pads, which temporarily mask the pain or some pieces of home gym equipment that can keep the back limber.
However, there is a more long term solution to back troubles. Teeter inversion tables offer quick and easy daily routine that inverts the user, stretching and re-aligning the spine. After a day of sitting at a desk or even walking around, the spine becomes compressed as gravity does its work. This can lead to stiffness and sore muscles. This stiffness can lead to injury when going for a golf swing, leading to pulled muscles or even worse injury. Teeter uses gravity to help the back, by relieving the tension in the neck, shoulder and back muscles.
Strong rotational movements, such as a golf swing, can lead to the body overcompensating to the stronger side of the body. This can pull the spine out of sync and really add long term damage. But a few minutes a day on a Teeter can help straighten everything out and re-hydrate the disks, allowing them to be more flexible.
When looking for prevention, then strengthening the abdominal muscles is the best way. This will help keep the body in symmetry when taking the swing. This is something Teeter offers, as inverted sit-ups just use gravity to create the ultimate abdominal workout.
Health Clubs at Home MD Howard Braband is a keen golfer, and also a Teeter user. 'I have struggled for many years with a bad back. To the point where I would take a swing and only give it 50% power so I knew that I wouldn't damage myself and lose hours of physio time. When I was recommended trying Teeter by my Chiropractor, I was skeptical, but quickly came around. Just a few minutes a day and my back felt like new. It is just infuriating that I wasted so many hours of therapy when Teeter had a 5 minute a day, permanent solution on offer. Since then I had to help to supply Teeter to the UK and Europe. If I benefited this much, then I know others can too'.
Teeter can be commercial gym equipment or home gym equipment and its elegant design means that it can be utilised anywhere. It can work for any explosive sport by helping stretch the spine, relax the muscles and reduce injury. Or anyone who works at a desk or running around all day, can benefit from its gentle and effective therapy.
To find out more about the Teeter range then feel free to contact Howard Braband on free phone 0845 8699298 or visit http://www.healthclubsathome.com.