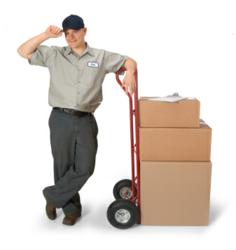 Los Angeles, CA (PRWEB) September 24, 2012
One of the most trusted Los Angeles moving services', Los Angeles Commercial Movers, can now be found on Facebook.
"We created a page on Facebook because we want the opportunity to interact with our past, current, and potential future customers online," said Louis Gonzales, Marketing Director for commercial movers Los Angeles. "We will utilize Facebook to keep the public aware of the services we provide, such as residential and commercial movers, as well as sales and specials that we will be having in the future. Furthermore, we can use this forum to find out how our LA residents feel about different topics that will be helpful to growing our business, by asking questions, and conducting polls."
Facebook's mission is to give people the power to share and make the world more open and connected. Facebook users communicate and share information through the social graph, the network of connections and relationships between people. Facebook is the fourth- most trafficked website in the United States.
In 2007, Facebook launched Facebook Platform to empower developers and entrepreneurs around the world make the Web more social for users. Millions of Facebook users return to the site each day, providing unparalleled distribution potential for applications and the opportunity to build a business that is highly relevant to people's lives.
The LA moving company provides free, non-binding moving estimates, and works with business owners on setting up a moving plan to relocate an office in the quickest and most efficient manner possible. They provide their our own packing supplies, and can pack an entire commercial space. They can move electrical equipment, medical equipment, clothing racks, window displays, take down and put up cubicles, move filing cabinets, etc.
LA Commercial Movers, operated by parent company, Melrose Moving, is licensed and insured, and registered with the PUC. Rated A by the Better Business Bureau, the company also has excellent reviews online.
For more information, visit Commercial Movers Los Angeles.
Facebook® is a registered trademark of Facebook Inc.