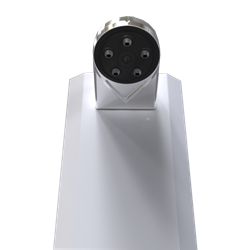 Southampton, Hampshire (PRWEB UK) 26 January 2017
Dr John Shrimpton of the University of Southampton has carried out an independent study that demonstrates the Kelda Technology Shower System is 20x safer than an aerating shower in guarding against harmful legionella when comparing the generation of aerosols which carry the legionella bacterium. Kelda provides a range of commercial showers for gym and leisure centres, hotels, accommodation providers and the public sector.
Legionnaires' disease, is a potentially fatal type of pneumonia that can be contracted by inhaling legionella bacteria in tiny droplets or aerosols smaller than 10 microns during showering.
Dr Makin, co-author of the UK's Legionella guidelines stated showers which have the ability to significantly reduce the number of aerosols they release offer an increased level of safety in relation to transmission of waterborne infections such as Legionnaires' disease and should be of interest to leisure centres, hotels, cruise ships and the healthcare sector."
Using a laser diffraction technique, scientists at the University of Southampton measured water droplet sizes from different shower heads and concluded the Kelda shower produced remarkably fewer inhalable particles of the size necessary to contract the disease.
Dr Shrimpton said "This is a really interesting finding that the Kelda shower spray form produces much fewer aerosols of a respirable size and so is safer in guarding against Legionella when showering".
In response to the study, Chris Jackson CEO of Kelda Technology stated "It is great to be able develop the Kelda shower technology with our local university in Southampton. These results serve to further endorse just how innovative and revolutionary the technology in our shower is".
Adrian Mosley, CMO at Kelda Technology added "Kelda Shower Systems work in an entirely different way to so-called eco showers that rely on aerating principles - we're thrilled that our revolutionary product range not only reduces water consumption by half, it's also safer for our customers."