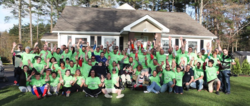 Fairhaven, MA (PRWEB) June 07, 2013
As part of a continued effort to support and give back to the local community, commercial painting company ProGroup Network and its employees recently took on yet another community service project, this time helping to renovate the home of Jeremiah, Aiden, and Cindy Jeffers. Called "Jeremiah's Project," more than sixty volunteers helped to completely renovate the home, gutting interior and exterior walls to create a more livable and moveable space for Jeremiah and his family.
Jeremiah is a 12 year-old boy suffering from cerebral palsy. Both he and Aiden, his younger brother, are under the care of their Grandmother, Cindy Jeffers. The daily struggles of keeping up with Jeremiah's care have been hindered by the house they live in. Not only is Cindy unable to meet the maintenance demands of the home, her personal joint pains cause her struggles with daily activities like bathing Jeremiah. Furthermore, without easily accessible bathing areas and wide hallways, it is quite difficult for Jeremiah to maneuver around his own home.
On April 26th, the family got the surprise of their life. Jeremiah, his brother, and Cindy were picked up from their home in Wareham, Massachusetts and sent on vacation for a week, under the impression that small renovations would be done to their home. Little did they know that the small renovations were actually a complete gut and renovation of their entire home to make it handicap accessible. More than sixty volunteers, including those from ProGroup Network, worked around the clock to install new electric and plumbing, to install a new exterior roof, to build and install a new ramp to the property, and to make improvements that would further enhance Jeremiah's quality of life within the home. ProGroup Network also painted the entire interior and exterior of the home.
The family was brought back to the Wareham home for an unveiling on May 4th. There was not a dry eye in the neighborhood as this deserving family got to tour their new home and as volunteers celebrated the project.
A renowned commercial painting company in Massachusetts, ProGroup Network and their staff have committed to ongoing projects throughout the community and New England as a whole. This is one of many projects they have participated in and have planed for the rest of the year. It is their goal to continue to give back to the community that has given them so much as a local business.
Donations are still being accepted to help the Jeffers family and can be mailed to:
Jeremiah Jeffers Project
Acushnet Federal Credit Union
112 Main St.
Acushnet, MA 02743
To learn more about this and other community projects that ProGroup Network is involved in, please do not hesitate to visit them on the web at: http://www.ProGroupNetwork.com. They look forward to hearing from you and are always happy to assist you with your New England commercial and residential painting needs. Connect today!