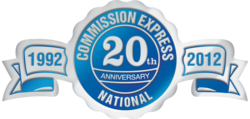 "To pioneer a new industry and achieve 20 years of service to Realtors nationwide has been a privilege" says John Stedman
Fairfax, Virginia (PRWEB) April 05, 2012
Commission Express celebrates its 20th anniversary this year. Started in 1992, Commission Express was the nation's first franchise system to offer commission advances to local real estate agents. As explained by co-founder John Stedman, "Real estate agents are like any other business owner. Even with a pipeline filled with sales scheduled to close in the future, they can still struggle with immediate cash flow. That's where we come in. We can purchase an agent's commission on an impending transaction, and then redeem our money from settlement when the sale closes."
Today, Commission Express remains the only commission advance franchise throughout the U.S. With 32 offices in 26 states, the Commission Express franchise system has transacted over 100,000 commission advances, totaling hundreds of millions of commission dollars.
Commission Express franchisee's do business with agents and brokers that are affiliated with all the major real estate companies in the U.S. such as ReMax, Coldwell Bank, Keller Williams, Long and Foster, and others.
Commission Express has active affiliate memberships in over 40 state and local Real Estate Associations.
If you or your organization would like more information on commission advances or on Commission Express, contact us by phone at 703-560-5500, or by email at manager(at)commissionexpress.com. You can also visit our website at http://www.commissionexpress.com