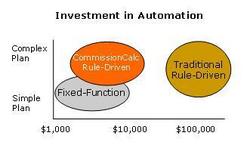 CommissionCalc saves our Accounting Department 20 hours each month. What we were really looking for, though, is improved accuracy and clear reports for our brokers – and that's what we got. (Trey Winthrop, Financial Controls, Bob's Red Mill)
Westport, CT (PRWEB) March 4, 2011
Blytheco and Flaum Technologies Inc.'s new partnership makes it practical for MAS 90/200 users to automate "impossible" commission plans.
Only rule-driven software can compute intricate commission and rebate plans, those with many special cases and exceptions or with unusual and complicated rules. However, traditional rule-driven software is impractical for MAS 90/200 users because of its six-figure cost. Therefore, these companies had to compute even complex plans in spreadsheets, with the errors and lost time which inevitably results from manual processing.
Blytheco and FTI have now overcome this problem by jointly developing a MAS 90/200 version of the proven, cost-effective CommissionCalc. Now that this development is finished and CommissionCalc for MAS has entered general release, Blytheco will offer it to their large customer base while will FTI continue to improve the software, sell it to others, and provide technical services.
CommissionCalc pays for itself at any company spending eight hours or more per month computing commissions or rebates.
How? By reducing the time spent calculating commissions manually, including the time salespeople spend checking them. More critically, improved accuracy and clearer reports reduce errors and overpayments. Industry sources say that manually computed commission plans typically contain eight percent errors and overpay by two to four percent, because commission recipients are better at finding errors which reduce their income than those which are in their favor. Automation improves salespeople's confidence in the plan while saving money.
CommissionCalc can automate commission based on volume, profit, discounts, payment timeliness, quotas and rate tiers, promotions, extras for new customers, package size, and more. It will allocate commission among salespeople, managers, support personnel, and outside reps and allocation rebates between customers, their parent companies, and buying groups.
It is also flexible on timing. It will pay commission on receipt of full or partial payment, when product or services are invoiced or at multiple times during the sales and performance cycle. Furthermore, it will compute commission expense liability at the proper time, including adjustments when commission is charged back.
And these are just the common variables. It can also accommodate truly unique rules. For example, one user pays a different commission on items picked up by a customer from those shipped to the customer. Another has an annual quota for each customer, with each quota year starting on a different date. Yet another pays a commission rate based on the salesperson's lifetime sales - i.e. his or her total sales since first joining the company. Every company's commission plan is designed to reinforce its marketing strategy, and CommissionCalc is designed to handle the resulting variety.
To learn more about how this works, view this movie of a CommissionCalc user talking about his experience automating commissions, first without CommissionCalc and then with it.
Stephen Flaum of FTI summarizes:
"We're proud that Blytheco has chosen to work with us to give MAS users a practical way to automate unique, complex commissions and we are looking forward to a long and productive partnership."
About Blytheco, LLC
Serving the business community since 1980, Blytheco offers business management software and consulting services to the mid-market. Blytheco represents Sage solutions including Accpac, Sage ERP X3, MAS 90, MAS 200, MAS 500, BusinessWorks, SalesLogix, SageCRM, Abra HRMS and MIP Nonprofit business solutions. With 130 employees across the U.S. in sixteen states, Blytheco works to help companies meet their business goals with award-winning software products, custom programming, and the highest quality consulting in the industry.
About Flaum Technologies Inc.
Flaum Technologies is the expert in providing software tools that automate complex commission calculations for large and small companies.
# # #