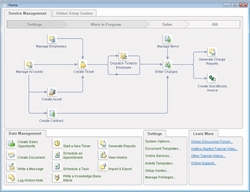 With CommitCRM 5.0, IT professionals can be up and running in no time, for a fraction of the cost required by other systems.
Tel Aviv, Israel (PRWEB) April 28, 2009
Commit Business Solutions Ltd., the leading company in Professional Service Automation (PSA) systems for small- and medium-sized IT service providers, announced today the release of CommitCRM 5.0, a true gem for thousands of IT professionals who want to stay competitive in today's tough economic climate.
The new CommitCRM 5.0 is nothing less than a full commitment to the smaller businesses in the IT-services community (e.g. those with 1 to 30 technicians). Titled "Thanks to you!," the 5.0 release includes new and enhanced features based predominantly on the ongoing customer feedback gathered through countless discussions on how to improve and automate small computer-services business processes.
"With this new release, we help small IT service providers compete with the big guys, helping them win more sales while controlling costs and increasing revenue," says Maayan Porat, Commit CEO. "CommitCRM 5.0 helps small IT solution providers move their businesses toward the MSP business model and base their revenue on the recurring managed services," he added.
Commit prides itself on having close ties with its community. The outcome is an outstanding, improved version of its already mature Professional Service Automation (PSA) system. With new features focused on improving IT business process automation, CommitCRM 5.0 helps IT professionals capture more billable time, track efficiency and profitability at all levels, save time, and increase revenues by automatically billing clients for recurring services (e.g. manage services, hosting, all-you-can-eat monthly agreements). Along with many new features, the latest version of CommitCRM comes with detailed, user friendly training manuals, creating a soft landing for new users and a fast and friendly learning experience for advanced users.
"We are completely committed to the SMB IT marketplace, and we provide the most affordable, easy-to-use and easy-to-implement PSA solution to date," says Chen Harel, VP Marketing at Commit. "With CommitCRM 5.0, IT professionals can be up and running in no time, for a fraction of the cost required by other systems."
With the release of version 5.0, Commit continues to maintain its Free Support policy, unmatched in today's competitive IT PSA software market. When asked about the free support policy, Maayan says: "We see every support interaction as a chance to listen, learn, and improve." With this new version, they've proved they do just that!
Select New Features in CommitCRM 5.0:

New! Activity Templates: Handling repeating jobs that consist of a standard set of steps--network installation, server setup, follow-up on a business lead, etc.--is an easy task with CommitCRM 5.0. Users can now define Activity Templates and apply them whenever needed, rather than manually enter the same set of steps into the system for every new project. In addition, Activity Templates lets users automatically assign tasks to the relevant employee according to a predefined set of rules. By using this new feature, IT professionals improve the quality of their work--improving planning, streamlining the company's internal workflow and saving time--leading to greater customer satisfaction.
New! Contract-Price Charges: Charging clients for recurring services, such as managed services, hosted services, and other monthly service agreements, is now easier than ever. The new Contract-Price Charge feature helps users charge for an amount agreed upon in a contract for both recurring and one-time services.CommitCRM 5.0 users can now track, renew, and bill for recurring agreements that consist of a variety of services. This feature also provides flexibility when billing for managed services. To save time, users can manage a predefined set of plans (i.e. Contracts) and easily copy/apply them to new and existing clients.
New! Enhanced Integration with Intuit ® QuickBooks ®: CommitCRM users are used to streamlining their billing processes using CommitCRM link with Intuit® QuickBooks®. Beginning with CommitCRM 5.0, users can include non-billable charges in QuickBooks invoices that are generated directly from CommitCRM. Charges marked as "Not Billable" usually represent work that is covered by a service contract and is therefore not billed to the customer as a separate item (i.e. the customer does not need to pay for this directly). Still, in many cases--and especially during an economic downturn--many IT professionals want to provide their customers with details about all the services they provide under an agreement or contract. Now, with CommitCRM 5.0, users can include "Not billable" charges in QuickBooks invoice without affecting an invoice total.
New! Online Services: Commit's Online Services feature has always been particularly popular with its customers. They allow for users to easily integrate CommitCRM with external systems and Web sites, for example, allowing technicians to display maps (Google® Maps, Yahoo! Maps, etc.) and locate a customer's address prior to setting out for an on-site visit. In CommitCRM 5.0, this enhanced feature supports many additional entities of the system--such as: Accounts, Tickets, Assets, Items, Opportunities, Contracts, and Knowledge Base articles. This means that users can now embed much more information in dynamic URL addresses they define for use with Online Services. For example, technicians can access their MSP system and instruct it to display the details of an IT Asset (e.g. sever) directly from within CommitCRM by passing the Asset ID stored in CommitCRM to their MSP system.
New! Capture more billable time! CommitCRM 5.0 includes new workflow enhancements that help IT providers verify that they bill clients for all the services they provide! For example, technicians now receive alert messages when trying to close service tickets that do not have time or parts charges logged to them; the CommitCRM dispatcher board now highlights tasks and appointments (e.g. on-site visits) that haven't been charged yet; and much more.
New! Print Reports to PDF and send by e-mail: Reports can now be printed directly to Acrobat® PDF documents. Users can also e-mail reports in PDF format directly from the CommitCRM client application or via the Commit Web Interface, providing greater flexibility in printing technician service forms that require customer signatures.
New! CommitCRM "Home Screen": The new "Home Screen" helps viewers understand the CommitCRM application's workflow, and offers easy, one-click access to commonly performed actions within the application, as well as to Help resources.
In addition to the features highlighted above, CommitCRM 5.0 includes even more enhanced features for better workflow and service processes. The user experience has also been improved, and direct links to online Help resources are now available in the system, right where you need them.
Availability and Pricing
CommitCRM v5.0 ships on April 28, 2009, and is a free upgrade for all users who have licensed their system recently or are subscribed to an annual upgrade plan. Licenses for new customers start at $249 (perpetual). A fully functional 30-day free trial is available from the company Web site, http://www.CommitCRM.com.
About Commit
Commit Business Solutions Ltd. is a leading provider of Professional Service Automation (PSA), CRM, and billing software solutions and is designed specifically for small- to mid-sized IT service providers, computer repair shops, and managed-services providers (MSPs). Commit's solutions help IT businesses automate their workflow and better manage projects, customer support, computer repair, and outsourcing services.
For more information, contact info@commitcrm.com or visit http://www.CommitCRM.com.
###