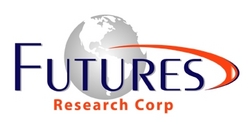 Our extensive database and trade analysis functionality have been designed to be as flexible as possible, in order to work with our institutional partners on their terms
Toronto, Canada (PRWEB) January 14, 2009
Futures Research Corp. (FRC) is pleased to announce today the launch of their new subscription based research service for futures traders and other futures market participants. Specializing in seasonal and historical research tools, the site is designed for both the novice and experienced futures trader. Included is a complete weather analysis package and easy access to many of the market moving industry reports as they are released. The service can be accessed at http://www.FuturesResearchCorp.com .
Given the soaring commodity markets of the past few years and the increased volatility still being experienced, it has never been more important for market participants to possess as much information as possible to guide their trading decisions.
For traders, the site targets those looking for trading ideas and those looking to further validate trades from their existing trading program. "Those looking for trading ideas need look no further than our constantly updated listing of trades that have historically been successful more than 80% of the time," according to Michael Kelly, COO of Futures Research Corp. "They are a great starting point, especially for new traders." Traders with their own trading system can plug their trades into FRC's seasonal analysis tool to determine past performance, maximum risk and profit points and many other metrics. In addition, FRC can optimize trade entry and exit dates based on historical performance.
Spread traders will also be pleased with the wide variety of spreads available for study.
Futures Research Corp also offers their output in a variety of formats that Futures Commission Merchants (FCMs) and other brokers can re-brand and offer to their clients. "Our charts and market analysis should not only encourage additional client trading activity, but the professional quality trade reports and charts also provide a great prospecting tool for attracting new clients," states Kelly. "Our extensive database and trade analysis functionality have been designed to be as flexible as possible, in order to work with our institutional partners on their terms," confirms Carl Connell, Chief Information Officer.
Many of the most successful traders believe the greatest success in trading markets is achieved by analyzing markets from both a technical and fundamental perspective. FRC provides fundamental analysis through a centralized access point for industry reports, weather analysis for determining impacts to the agricultural and energy markets, and charting of all varieties of fundamental information such as supply and demand data for many of the major futures contracts.
As part of the offering, free webinars are also being presented on a variety of topics of interest to both new and experienced futures traders. Clients and non-clients alike can register for these free webinars at http://www.FuturesResearchCorp.com/webinar.aspx .
For a limited time, a free 14-day trial is available to all prospective clients.
"Our goal is to grow into a one-stop centralized resource for traders to find all the information they need in order to be successful in the futures markets," states Kelly.
For additional information, please contact Michael Kelly or visit the website at http://www.FuturesResearchCorp.com .
About Futures Research Corp:
Futures Research Corp. is a web-based research firm dedicated to providing futures traders with the information and tools they need to improve their trading decisions and increase the success of their trading program. In addition, services are provided to brokers, educators, publishers, and other institutions requiring research on the futures markets.
Contact:
Michael Kelly, Chief Operating Officer
Futures Research Corp
416-522-7624
http://www.FuturesResearchCorp.com
###