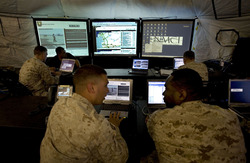 We are delighted that Swan Island and ViaLogy will be deploying SPM to address the public safety stakeholders' priority requirement for improved and coordinated sensor monitoring in a networked environment
Portland, OR (PRWEB) August 14, 2008
In this uncertain and ever-changing world, business leaders and public safety stakeholders need rich, dynamic information for situational analysis, business intelligence and decision support. Today, Swan Island Networks Inc.,a recognized leader in the design and deployment of Web 2.0 enterprise systems, and ViaLogy PLC(LSE:VIY), a world leader in policy-driven, IP-based sensor networks, announce their new strategic partnership to benefit professionals with enterprise operations responsibilities, including facility security, infrastructure protection, employee safety, disaster response, and business continuity.
The new strategic partnership employs TIES®, Swan Island Networks' innovative software-as-a-service offering, and ViaLogy's SPM™ (Sensor Policy Manager™) to create an intelligent sensor monitoring and display network. The TIES personal dashboard presents ViaLogy's sophisticated sensor data as rich mapping overlays in the context of related breaking news feeds, open-source and proprietary data, geopolitical and emergency incident reports, severe weather alerts, and more. TIES is used to drive comprehensive situational awareness throughout an organization, or into a community of trust in which authorized users share information.
"Speed and diversity of information sources are critical to today's situational awareness," said Pete O'Dell, Founder/Director of Swan Island Networks. "With TIES, our customers create a 'virtual watch center' that allows them to monitor breaking events and changing conditions, and what effect those changing conditions will have on their core assets, such as people, facilities, pipelines and supply chains. The addition of ViaLogy into the TIES' watch center will strengthen our offering and provide more value to our customers."
The companies first worked together in Operation Golden Phoenix 08, a government-sponsored terrorism training event that involved over one hundred public and private organizations working together to dynamically respond to a fictional terrorist scenario in southern California. Swan Island Networks provided its TIES service to deliver a real-time Common Operating Picture of the event, including local San Diego information and incident alerting, and incorporated the ViaLogy sensor network that was aggregating data from participating locations, including airports, hospitals and marine facilities. Personalized management dashboards were delivered as a browser-based software-as-a-service (SaaS), with full functionality delivered on both PCs and mobile devices.
"We are delighted that Swan Island and ViaLogy will be deploying SPM to address the public safety stakeholders' priority requirement for improved and coordinated sensor monitoring in a networked environment," said Robert W. Dean, President and CEO of ViaLogy. "We offer turnkey networked sensor monitoring software. When integrated into our partner Swan Island's TIES environment, it provides unparalleled visual situational awareness of the dangerous and rapidly changing environment we constantly face. Golden Phoenix demonstrated the superb versatility of both companies' products in a challenging deployment, and we believe this will lead to the use of SPM and TIES for emergency responders, and private sector business operations, in cities nationwide--and major sales opportunities for the companies."
About Swan Island Networks:
Swan Island Networks, Inc., founded in 2002, is a recognized leader in the design and deployment of next-generation sensitive information sharing and other next-generation enterprise systems. The company's innovative TIES® service is driving dynamic operational awareness, crisis management and information sharing capabilities to a growing list of blue-chip public and private enterprise customers; and providing a high-trust technology framework for professional social networks.
TIES aggregates thousands of disparate data sources, including alert notifications and geospatial information; displays consolidated information and feeds in situational awareness dashboards; ensures targeted dissemination to PCs and mobile devices; allows end users to customize and personalize their TIES experience; supports scalable trusted social networks; and enables authenticated stakeholders to share information in designated Communities of Trust.
For further information please contact
Pete O'Dell
Founder/Director
Swan Island Networks
202.460.9207
or
Sherry Lamoreaux
Marketing Communications
Swan Island Networks
503.796.7926
About ViaLogy: Network Centric Signal Processing:
ViaLogy is a leading innovator of network-centric, real-time signal processing platforms for sensor applications. ViaLogy is currently deploying and designing computational systems, powered by its patented technologies, for applications in life sciences, public safety and security, surveillance, defense and geoseismology. Vialogy focuses on market driven problems where automation, timeliness, quality and reliability of information processing are essential. ViaLogy's core competency incorporates rapidly and accurately detecting weak signals buried in high noise background and clutter. This technology can be employed to solve problems involving sensor integration and information overload challenges involving video, telephony and control sensors, as well as for enhancement of numerous signal processing applications. For more information, visit our website at http://www.vialogy.com.
Except for statements of historical fact, the information presented herein constitutes forward-looking statements within the meaning of the Private Securities Litigation Reform Act of 1995. Such forward-looking statements involve known and unknown risks, uncertainties and other factors which may cause the actual results, performance or achievements of the company to be materially different from any future results, performance or achievements expressed or implied.
For further information please contact:
ViaLogy
Robert W Dean, President & CEO - US +1 626-296-6337 (mobile: +1 703-589-3807)
Terry Bond, Chairman - UK & Europe +44 (0) 1235-834734
Nominated Advisor (Seymour Pierce)
Mark Percy +44 (0) 20-7107-8000
PR Consultants - Redleaf Communications
Emma Kane / Samantha Robbins +44 (0) 20-7822-0200
###