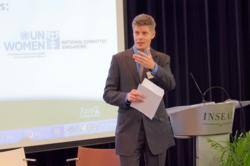 There are important behavioural differences between men and women in bargaining styles, and non-verbal communications.
Toronto, ON (PRWEB) May 26, 2011
Do men and women negotiate differently? Who's the better negotiator? Do non-verbal communications affect cross-gender negotiations? Can both men and women use their strengths to create the results they want? In a dynamic keynote entitled 'Getting to Yes? Men, Women, and Negotiation Success', Peter Hiddema, one of the world's top negotiation experts, provides insightful answers to these and other questions. And then using leading-edge tactics he shows the audience how to achieve the kinds of negotiations, both in business and at home, that let everyone get to yes.
"There are important behavioural differences between men and women in bargaining styles, and non-verbal communications", says Mr. Hiddema. "For example, men tend to focus more on the content of a negotiation than on the relationship, and are comfortable being competitive. Women generally place more emphasis on the relationship dynamics than men do, and are more comfortable being collaborative. Neither style is 'better' – each has pros and cons…instead it's about learning how to use your gender strengths and your individual skills to achieve desired outcomes, while minimizing the impact of your weaknesses."
About Peter Hiddema
Mr. Hiddema is Founder and CEO of Common Outlook Consulting Inc and has been building upon the foundation he established in the field of negotiation and conflict management through his inspiring association with the Harvard Negotiation Project (HNP). He has lectured and delivered workshops at several universities, including Queen's University (in Canada and the UK), HEC at L'Université de Montréal, INSEAD (France and Singapore) and Harvard University, as well as Fortune 500 companies around the world (such as Royal Bank of Canada, Goldman Sachs, Toyota, and Deloitte) applying the Harvard methodology to teach executives and leaders the skills they need to successfully drive performance for their organizations.
Common Outlook Consulting Inc. is a unique Canadian-based consulting company that helps international clients discover out-of-the-box win/win outcomes for their daily business challenges in the areas of negotiation, conflict management, and leadership development. These clients experience a significant productivity increase upon completion of Common Outlook's corporate learning programs or after employing Common Outlook's high-stakes negotiation strategy advice or facilitated dialogue services.
Learn more by visiting: http://www.commonoutlook.com/services/speaking/
# # #