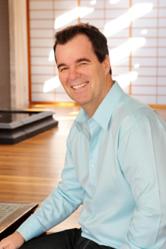 The Commonwealth Games announcement will be a real shot in the arm for property investors in Queensland
Sydney, Australia (PRWEB) November 16, 2011
On Saturday morning, Australian time, Queensland's Gold Coast was announced as the successful bidder for the 2018 Commonwealth Games. While local tourism authorities believe the Games will bring social and economic benefits the the area, property investment creative-thinker, Rick Otton, believes the benefits will be more far reaching.
Representatives of the 71 Commonwealth nations met on the Caribbean Island of St Kitts, and after several days of lobbying, the Gold Coast bid triumphed over that of the tsunami ravaged Sri Lankan port of Hambantota.
The bid committee was anxious to bring the Games to the Gold Coast, which has sustained an image-battering following downturns in the tourism and property markets, and an alarming increase in its crime rate.
The Australian Government's Treasurer, Wayne Swan told reporters, "It's going to bring jobs, it's going to showcase Australia to the world. It makes our economy stronger and more resilient over time."
Implications for Australian Property Investment
The new injection of funding for Commonwealth Games infrastructure will, according to Mr Otton, begin to impact the property market from the get-go.
"As tourism in the area slumped, the Gold Coast lost much of its workforce, sometimes whole families, to the mining sector. With the new opportunities for workers that come with the Games, that population will return and, with it, a renewed demand for housing," said Mr Otton.
He continued, "Housing prices in south-east Queensland are at their lowest point for years, and there is little doubt that from now, all the way through to 2018, they will increase in step with the growing demand."
Mr Otton believes that this is the ideal time for those wanting to become involved in Australian property investing, to do so. By using the strategies he teaches, he says the opportunities are there to be seized by just about everyone.
Rick Otton's rent to buy strategies have been embraced by thousands of people around the world, as they give those who may not meet the requirements of the banks the chance to become home owners.
"The Commonwealth Games announcement will be a real shot in the arm for property investors in Queensland and bring new confidence to the Gold Coast tourism industry," said Mr Otton.
For more information on creative ways to seize newly emerging Australian property investment opportunities, visit http://www.RickOtton.com
About Rick Otton
Entrepreneur, Author, Speaker and Property Coach
Rick Otton is a self-made multi-millionaire and real estate consumer advocate, property investor and business owner.
He is the founder and director of We Buy Houses Pty Ltd, a leading property enterprise which has successfully expanded into the international markets of Australia, United Kingdom, New Zealand and USA.
In 1991, Rick Otton uncovered an innovative strategy of buying and selling real estate and went on to amass a portfolio of 76 properties in his first 12 months of investing. Rick buys, sells and trades property, using little or none of his own money, and structures transactions to create positive cash flow.
Since 2001, Rick has taught nationally and internationally over 35,000 students how to buy, sell and trade residential property without getting bank loans or acquiring debt, using little cash and minimising risk.
Many of Rick's students have been able to create wealth, buy their first home, restructure a negatively geared property to make it cash flow positive and build their property portfolio year after year.
Rick's mission is to transform the way people buy and sell property - to empower others with the knowledge there is another way. He regularly meets with leading government officials who seek his advice on solving the housing affordability crisis.
His philosophy has been highlighted in various Australian TV shows. He appeared in the ABC documentary 'Reality Bites' as well as 'Today Tonight' and 'Hot Property'.
Rick has also been profiled in numerous national and international magazines and books as he shows everyday people how to create wealth in real estate, without bank loans or saving large deposits.
###