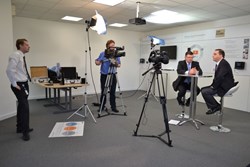 Too many videos are let down by leaders who look and sound uncomfortable in front of the camera
London (PRWEB UK) 21 January 2014
CommunicateTV today announced the launch of a media training service to support leaders in communicating effectively in front of the camera. The new service will use broadcast-trained media experts to ensure that clients feel comfortable and relaxed when telling their story.
Dave Harries, MD of CommunicateTV, said: "We believe that video interviews are by far the most effective way for businesses to engage audiences and to tell their stories. However, too many videos are let down by leaders who look and sound uncomfortable in front of the camera. Viewers look at the body language and draw their own conclusion."
"Performing in the media is fast becoming a core competence for business leaders and yet few get the support they need. Our new media training service helps leaders learn how to listen and engage authentically. How to feel comfortable in front of the camera and come across naturally. We believe that it is best to invest in training and support from the beginning."
CommunicateTV's approach is to bring the lights, camera and journalists into the clients' office rather than using a studio. They work with their clients on creating short, focused scripts that aim to engage the relevant audiences. They have always helped clients understand how the media operate in order to give them the confidence to perform in front of the camera. This media training proved so popular that CommunicateTV launched it as a separate service via broadcast experts in the UK and US.
According to James Elms of JDR Solutions Ltd, one of CommunicateTV's media training clients, "We used CommunicateTV for crisis media training. They got straight to the point which was great given the level of people in the room. Everyone found their advice very useful."
Dave Harries added: "Good communications needs three elements in order to flow naturally: confidence in your narrative, confidence in yourself and practice. At CommunicateTV we can help provide all three."
Notes to Editors:
About CommunicateTV
CommunicateTV make interview-based films to help you get your messages direct to your audience. Their short, professionally-produced films can play a major role in your overall communications strategy. They are suitable for both internal and external communications as well as for viral campaigns, and can be a cost-effective way of creating regular, quality content for your digital channels.