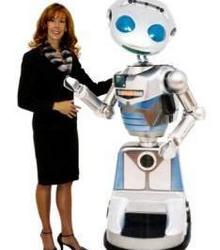 This is particularly true in the highly competitive business, consumer and political environments of our modern day world.
(PRWEB) October 10, 2007
After 35 years of researching the interrelationship between human beings and machines, International Robotics, Inc. (IRI) is pleased to announce the most advanced communication robot in the world, the Millennia. Pioneers in the field of Technology-to-People Behavioral Psychology, IRI has created an adult-size multilingual interactive robot that is able to communicate with any age, social, ethnic or cultural group in any type of environment.
"Most interactive robots have the ability to convey commercial messages, but IRI's robots have the ability to command the attention and respect of today's more complex – and often more jaded – audiences by openly communicating, as a human would, with any member of society regardless of age, social, ethnic or cultural background," said Robert Doornick of IRI.
The Millennia is able to overcome the fears and anxieties that limit many human communicators. This allows the robot to act as an effective PR, marketing, advertising, promotional, educational or entertainment tool. In addition to a very sophisticated remote control system used for live interaction, the robot is programmable for automated presentations, with new presentations able to be transmitted wirelessly via the robot's on-board Wi-Fi connectivity. Just trigger the corresponding command, and the Millennia will gladly oblige, supporting a Keynote Address, Press Conference or exhibit, complete with speech, motions, music and audio effects.
"We operate our robots according to well-defined and well-proven parameters in human psychology and communication," said Doornick. "Our robots have been designed based on 35 years of pioneering research. It is all based on science and a well-proven technique. After many years of experience using our adult-size multilingual Communication Robots in clinical and educational environments, we have learned to bond rapidly with people while removing the typical stress, suspicions and defense mechanisms often associated in a human-to-human interaction," explains Doornick. "This is particularly true in the highly competitive business, consumer and political environments of our modern day world."
IRI employs and trains human operators, who remotely bring these communication robots to life, and who are carefully selected for their communications skills and persona. These robot operators are refined, cultured, multilingual, compassionate, witty, humble and tireless individuals who absolutely shine through their performances. For more information on IRI's many Communication Robots and Technologies, please visit http://www.internationalrobotics.com .
About International Robotics, Inc. (IRI)
International Robotics, Inc. (IRI) is a privately-held, full-service company that successfully employs cutting-edge technologies and interactive robotic systems for entertainment, business, promotion and communication. With over 35 years of experience in the pioneering fields of Robot-to-People Behavioral Psychology and Techno-Marketing™, IRI's principle field of research is that of ''Human Behavior in the Presence of Artificially Intelligent or Interactive Technologies.'' IRI is a global alliance of scientists, physicists, engineers, futurists, techno-artists, inventors and roboticists. The company maintains a Techno-Marketing™ Showroom in New York City, which can be visited by appointment. For more information, please contact:
Robert Doornick
212 982-8001
info@internationalrobotics.com
###