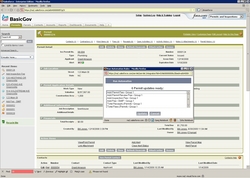 Vancouver, BC (Vocus) July 8, 2009
CloudBench Applications has launched video demonstrations of its BasicGov software for cost-conscious local governments. BasicGov web-based software streamlines key business processes for city and county community development departments.
BasicGov consists of three integrated software modules (BasicGov - Permits & Inspections, BasicGov - Code Enforcement and BasicGov - Planning). Unlike enterprise software that's expensive to acquire and difficult to implement, BasicGov requires no capital investment and is easy to set-up.
To view BasicGov web-based software for local government overview videos, go to http://www.basicgov.com. You can also request a more in-depth demonstration that includes an analysis and one-on-one meeting.
About BasicGov
CloudBench Applications, Inc. (TSX VENTURE: CBH) (formerly Municipal Software Group, Inc.) develops, sells and supports BasicGov, an affordable web-based software used by small to medium-sized local governments to streamline their permits and inspections, code enforcement and planning processes. BasicGov is a reliable, secure solution delivered for an affordable price and the only web-based software for local governments built on Force.com, the cloud computing platform from SalesForce.com used by more than 55,000 organizations worldwide. BasicGov software requires only an Internet connection and a browser. Users pay a monthly subscription fee of $119 per module and no capital investment is required. http://www.basicgov.com
Media contact: Susan Kirk, 1.604.315.9959
Sales contact: Roula Fredrikson, 1.866.999.1846 ext. 1
###