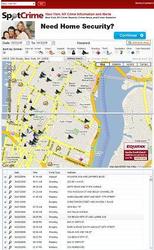 Readers of Statesman.com and viewers of WCNC will benefit from greater insight into crime trends and incidents
Baltimore, MD (PRWEB) April 23, 2009
SpotCrime.com, the consumer-driven leader in online crime mapping services, today announced the addition of two new, high-profile media partners to its nationwide network: the Austin American-Statesman and WCNC NewsChannel 36 in Charlotte, N.C.
Both the American-Statesman and WCNC will feature links to SpotCrime.com on their homepages and SpotCrime.com maps to track the latest incidents in their respective cities.
Founded in 2008, SpotCrime.com's cutting-edge technology collects up-to-the-minute crime reports and maps incident data for more than 200 cities around the country. On the SpotCrime Web site, users can search addresses for recent crimes - arrest, arson, assault, burglary, robbery, shooting, theft and vandalism - within a two-mile radius.
Visitors to the site can also register to receive regular email or text message alerts with details about new incidents. SpotCrime.com is also available on social networking sites like Facebook and Twitter.
"Readers of Statesman.com and viewers of WCNC will benefit from greater insight into crime trends and incidents," said SpotCrime.com Founder and CEO Colin Drane. "SpotCrime is honored to team up with these two outstanding providers of local news."
The American-Statesman is the Texas capital city's daily newspaper, and Statesman.com attracts 1.8 million unique visitors per month. Austin is hailed as one of the most Web-connected cities in the country. The newspaper sets itself apart from competitors and reinforces its mission of local news by hosting numerous blogs from citizen journalists. It also has one of the largest Twitter followings of all U.S. newspapers.
"Statesman.com is the leading source of crime and public safety information in the city, and our partnership with SpotCrime will help strengthen that position," said Tim Lott, Vice President/Digital Media of the American-Standard.
The Web site companion to Charlotte's NewsChannel 36, WCNC.com, averages more than 500,000 unique visitors per month with on-demand news, sports and entertainment from the station's local programming.
"SpotCrime is a like a breaking news report that users can have sent directly to their inboxes or cell phones," said Amy Lehtonen, managing editor of WCNC.com. "We look forward to providing our viewers with this valuable news service."
About SpotCrime.com
SpotCrime.com is committed to improving public safety through its online crime maps, customizable automated e-mail alerts and intuitive tools for user participation. The site provides timely and accurate crime information on 200 cities in the United States, Canada and the UK. SpotCrime also operates UCrime.com, which maps criminal activity on over 200 college campuses across the United States. For more information, please visit http://www.SpotCrime.com.
About the Austin American-Statesman
The Austin American-Statesman is the leading medium in Central Texas reaching more than 800,000 readers every week in print and online. Its family of websites - including statesman.com and austin360.com - has an average of over 25 million pageviews per month. Statesman brands are Central Texas' top news, entertainment, shopping and information sources. Along with the Austin American-Standard, the family of brands includes publications and websites in communities across Central Texas. For more information on the Austin American-Standard and its family of products, contact Lisa Sullivan lsullivan@statesman.com.
###