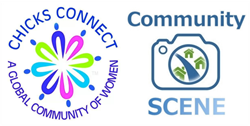 "Business networking groups are a foundational pillar of economic growth in communities, so I'm excited to see our platform used by a national networking group like Chicks Connect that is helping women business owners thrive." - Rick Palmer, CEO
Portland, OR (PRWEB) September 23, 2015
"Business networking groups are a foundational pillar of economic growth in communities, so I'm excited to see our platform used by a national networking group like Chicks Connect that is helping women business owners thrive," said Rick Palmer, CEO and Co-Founder of Community Scene.
On Community Scene, members can easily schedule and announce upcoming networking meetings in any of 18,000 communities using the free event calendar. Each community also has its own business directory that helps business owners connect with local residents in each community.
"I was thrilled to find out about Community Scene!" said Jewels Muller, CEO Chicks Connect. "I am always looking for great ways to promote our Chicks Connect Mastermind meetings to support the women in growing their chapters. Community Scene's event scheduling feature is a perfect fit for us to reach an even larger audience. I am equally excited to teach the women how to get even more exposure by creating a business listing in their local cities. Community Scene is the place to be and be seen!"
About Community Scene:
Community Scene (community-scene.com) is a free social network for communities. Based in Portland, Oregon, Community Scene was founded in 2014 to bring communities together for national and global impact. Community Scene has over 18,000 communities nationwide.
About Chicks Connect:
Chicks Connect (chicksconnect.com) is a Global Mastermind Support Network dedicated to connecting women, guiding them into action, holding them accountable for personal and professional growth built on a foundation of love, fun, friendship, service, and support. Chicks Connect currently has over 75 active chapter leaders.