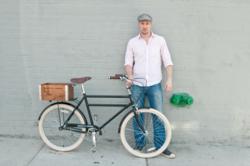 To conclude the year with being named 'one of the 50 coolest new businesses in America' is simply the icing on the cake
Brooklyn, NY (PRWEB) December 20, 2012
City bike company Brooklyn Cruiser today announced it has been named by Business Insider as one of the "50 coolest new businesses in America." In addition to Brooklyn Cruiser the article featured a diverse group of new businesses including restaurants, technology companies, barber shops and more.
Pictured in the article is Brooklyn Cruiser's signature model, the Driggs 3 along with its signature wood box. Released in early 2012, the model has been highlighted in many publications and is frequently mentioned for its original style, durability and quality of design.
"This has been a tremendous year for Brooklyn Cruiser. In addition to the business growing and expanding at an impressive pace, we have met incredible people and formed some fantastic partnerships," said Ryan Zagata, founder of Brooklyn Cruiser. "To conclude the year with being named 'one of the 50 coolest new businesses in America' is simply the icing on the cake," he added.
About Brooklyn Cruiser
Established in 2011, Brooklyn Cruiser mirrors the same iconic qualities of Brooklyn itself -- accessibility, durability, and original style. Brooklyn Cruiser commuter bikes start at $399. Bikes can be found at retail locations across the country or can be purchased online at http://www.brooklyncruiser.com. For more information, contact Ryan Zagata at info(at)brooklyncruiser(dot)com or call (800) 631-0630. Brooklyn Cruiser is based in Williamsburg, Brooklyn.