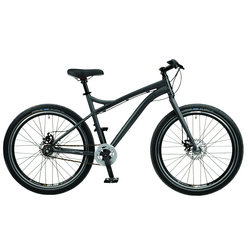 I think we're in the midst of a renaissance of the American bicycle, and commuter bicycles are going to play a larger role in that trend
Chapel Hill, NC (Vocus) May 6, 2010
Performance Bicycle, the nation's number one specialty bike retailer, is launching a new line of bikes aimed at commuters and casual riders. The new TransIt line of city and commuter bikes is the newest expansion of the Performance brand and offers anyone a way to make cycling part of their everyday routine.
The new TransIt line features five stylish and durable bicycles designed for reliable everyday use and maximum comfort in any condition, from campus trails to city traffic. The line was inspired by well-known streets in Performance's hometown of Chapel Hill, North Carolina. Franklin, Rosemary, Cameron, Kenan and Weaver are streets that are well known for their heavy bike traffic of workers, students and families.
"Huge" Benefits of Travel by Bike
Jim Thompson, chief executive officer of Performance Inc., noted that the benefits of biking as a means of transportation are huge:

A four-mile roundtrip by bicycle prevents the production of 15 pounds of air pollution, according to the League of American Bicyclists (LAB).
According to the US Department of Energy, more than 50 percent of the working population in the US lives within 5 miles of work.
Although more than 60 percent of all trips are 5 miles or less, fewer than one percent are traveled by bike (LAB).
If just one out of every 10 commuters who now drive to work switched to bicycling, the savings would amount to two billion gallons of gasoline per year and reduce carbon dioxide emissions by 25.4 million tons (LAB).
"I think we're in the midst of a renaissance of the American bicycle, and commuter bicycles are going to play a larger role in that trend," said Thompson. "We think our new line of TransIt bikes are just the thing to get more people to consider the benefits of commuting and traveling by bike. They offer a smooth ride, look great and provide a tremendous value. These are top-of-the-line bikes that come with premium components like Shimano and SRAM. They'll appeal to a wide range of riders."
The TransIt Lineup
Thompson said that each of the five TransIt models addresses different needs and tastes:
TransIt Franklin – The flagship of the TransIt line, Franklin is a versatile and stately commuter bike combining speed, utility and style. (MSRP: $1,649.99; Street: $899.99)

Velo classic leather grips and saddle with spring-tensioned tuning
Chocolate colored frame set
Custom-built wheels with Shimano Alfine hubs and Alex 36-spoke rims
Shimano Alfine Rapidfire Plus shifter, with gear optical display, and Alfine 8-speed gear hub
Shimano Alfine Hydraulic Disc brakes for stopping power and modulation for flawless braking in all seasons
Schwalbe Road Cruiser tires for quiet running and low-rolling resistance, puncture protection and all-weather grip
Spring-loaded rear rack and alloy fenders
TransIt Rosemary/TransIt Cameron – Two different looks, one great ride for travel from home or to favorite spots with comfort, style and convenience. (MSRP: $1,399.99; Street: $799.99)

Custom 6061 Aluminum frame
Sporty and versatile SRAM I-Motion 9-speed internal gear hub
SRAM Bandix shifter, with optical gear display
Tektro Lyra Disc Brakes for stopping power rain or shine
Custom-built 700c wheels with 36-spoke Alex rims
Schwalbe Marathon Extreme tires with patented SnakeSkin
Velo vinyl leather grips and tensioned leather saddle
Alloy fenders and rear rack mounts
TransIt Kenan – Designed for students, Kenan offers agile handling for hopping curbs, stair descents and weaving between walkers on and off campus. (MSRP: $899.99; Street: $599.99)

Custom 6061 aluminum frame
SRAM I-Motion 3-speed internal gear hub
SRAM Bandix shifter, with optical gear display
Tektro IO disc brakes for all-weather braking power
Kalloy handlebar, stem and seatpost
Custom-built wheels with 32-spoke Alex rims
Schwalbe Super Moto 26 x 2.35 tires with SpeedGrip Compound
Rear rack and fender mounts
TransIt Weaver – A premium single-speed for the best in urban-tracking and campus cruising, Weaver was designed for maneuverability. (MSRP: $699.99; Street: $499.99)

Custom 6061 Aluminum frameP
Tektro IO Disc brakes for all-weather braking
Kalloy handlebar, stem, and seatpost
Custom-built wheels with 32-spoke Alex rims
Schwalbe Super Moto 26 x 2.35 tires with SpeedGrip Compound
Rear rack and fender mounts
Performance Bicycle: A Resource for Every Rider
The TransIt line of city bikes and commuter bikes is the newest addition to Performance Bicycle's mission to make cycling retail friendlier and more accessible to more people. Performance backs up every sale with a 100 percent satisfaction guarantee and 90-day Low Price Promise, including free lifetime adjustments. The Kids Bike Growth Guarantee allows families to trade up and get discounts on new bikes as children grow. Guests also can join the Team Performance® Buyer's Club, cycling's number one buyer's club, to get ten percent back on every purchase, free second-day shipping upgrades, and other exclusive offers.
Performance Bicycle offers three great ways to shop—by store, by catalog and online at PerformanceBike.com.
Follow Performance on Twitter, @performance_inc and on Facebook at http://www.facebook.com/performancebike.
About Performance Bicycle
Performance Bicycle is the number one bike specialty retailer in the U.S. and is a wholly owned subsidiary of Performance Inc. Performance provides a multi-channel cycling retail experience that spans catalogs, a website at http://www.performancebike.com and 86 nationwide stores that cater to both the avid biking enthusiast and the recreational rider. Performance Inc. is majority owned by North Castle Partners of Greenwich, Connecticut. For more information about Performance Bicycle, please visit http://www.performancebike.com.
# # #