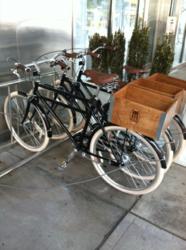 The style and design of the bikes perfectly complements our aesthetic. We are super excited to offer the bikes to our guests
Brooklyn, NY (PRWEB) August 28, 2012
Commuter bike company Brooklyn Cruiser has partnered with NU Hotel Brooklyn to offer guests bikes for exploring the neighborhood, beginning in September. The hotel's Brooklyn Cruiser bikes will be outfitted with an internal three-speed Sturmey Archer hub, preconditioned leather saddle and grips, cream tires, and Brooklyn Cruiser's signature double top tube frame and rear crate.
Bikes will be available to guests at no charge — riders will simply sign out bikes and they are free to use them for the day. Currently, NU Hotel offers bikes to their guests, but they have decided to upgrade and expand their current fleet of bikes with Brooklyn Cruiser's city bikes, which more closely mirror the hotel's Brooklyn style.
"Offering Brooklyn Cruisers to our guests further cements our commitment to being an authentic Brooklyn Hotel. The style and design of the bikes perfectly complements our aesthetic. We are super excited to offer the bikes to our guests," said Javier Egipciaco, general manager of NU Hotel, "and the partnership comes at an ideal time, given the expansion of bike lanes in Manhattan and Brooklyn."
"We're thrilled to be partnering with a hotel in our own backyard," said Ryan Zagata, founder of Brooklyn Cruiser. "We have founded our company on Brooklyn style, culture and design so it's super humbling that guests will be exploring the wonderful sights, restaurants and shops of Brooklyn on our bikes."
About NU Hotel Brooklyn:
NU Hotel Brooklyn is an environmentally conscious, first-class hotel, conveniently located at the intersection of four happening Brooklyn neighborhoods (Downtown Brooklyn, Boerum Hill, Cobble Hill and Carroll Gardens). NU Hotel Brooklyn manages to encapsulate that old school Brooklyn community vibe of having exquisite international cuisine, one of a kind boutique shops and world famous entertainment, all within a stone's throw from where you comfortably rest your head at night. NU Hotel is owned by Hersha Hospitality Trust (NYSE: HT) and managed by HHM. For more information, please contact: Mary Gollhofer, Media Manager, Independent Collection Hotels, at 267.238.5025 or via email at mary.gollhofer@hhmlp.com.
About Brooklyn Cruiser
Established in 2011, Brooklyn Cruiser mirrors the same iconic qualities of Brooklyn itself - accessibility, durability, and original style. Previously, Brooklyn Cruiser has provided bikes to The Maritime, Bowery and Jane Hotels in Manhattan and The Crow's Nest in the Hamptons.
Brooklyn Cruiser dutch bikes retail for $579. Bikes can be found at retail locations across the country or can be purchased online at http://www.brooklyncruiser.com. For more information, contact Ryan Zagata at info@brooklyncruiser.com or call (800) 631-0630. Brooklyn Cruiser is based in Williamsburg, Brooklyn.