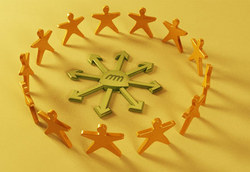 a new site that allows you to swap...anything you can think of. Talk about eco-friendly!
Toronto, ON (PRWEB) June 30, 2008
The beta launch of Commuto.com, beginning today, will create a new online social trading network for goods and services. Commuto is an online service that allows members to trade with each other. Communities already participating include groups of students, businesses and social connections.
Members create profiles and begin to add both items they are looking to trade, as well as any items they are interested in acquiring. Commuto will automatically match users' wants with other users' needs to facilitate the trade. Members can also create their own communities and invite their friends and colleagues to join.
Stephen Arbib, President and founder of Commuto, says, "Commuto's vast product database makes trading movies, games, books or any other item quick and simple." He adds, "Once members have agreed on a trade, they arrange a time and place to meet in their community. Commuto's eco-friendly service is membership driven and involves personal exchanges of goods to avoid shipping delays and delivery charges."
Designed to help users minimize spending, and thus being 'wallet friendly', Commuto is already being recognized for its 'Eco-friendly' elements. The Fashion Institute of Design and Merchandising has commended Commuto as part of its 'Go Green 2008' campaign. Named the 'Green Tip of the Week' on fashionclub.com, Commuto is described as "a new site that allows you to swap...anything you can think of. Talk about eco-friendly!" An April review by independent Trendcentral.com, says "..swapping has become the latest means of recycling..." and describes Commuto as a "Cool online swap meet". Apartment Therapy called Commuto "a great alternative to ebay".
Commuto's beta testing will continue through the second quarter of 2008, after which an integrated marketing campaign will begin with Vancouver-based partner, UM Marketing.
###