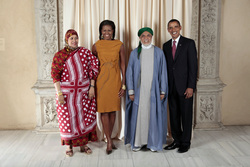 President Sambi is certainly focused on turning the country's fortunes around
(PRWEB) November 7, 2009
The people of the Comoros (officially the Union of the Comoros) have long been paying for its history of political violence and instability, but for the first time there are real hopes for the future of the country and its inhabitants. The Comoros may look like paradise but the country is desperately poor and over 60% of the population currently live below the poverty line. When President Ahmed Abdullah Mohamed Sambi came to office he claimed economic growth and poverty reduction would be his major priorities and he looks to be following through with his promises. Education is being upgraded, health care improved and tourism is being widely promoted to bring in a much-needed source of income to the beautiful picture-perfect islands.
President Ahmed Abdullah Mohamed Sambi, the first democratically elected leader for the Comoros Islands successfully unified the islands together in one state following a referendum. The first ever peaceful and democratic exchange of power has brought stability and order to country with a troubled history. The President is determined to plant Comoros firmly on the world map, and tirelessly travels the globe to attend international symposiums and meetings to discuss his cause with world leaders. He is dedicated to securing international support and financial backing in order to improve the country's future.
International Relations have certainly improved. The President has established positive relations with European, American and crucially Arabic nations. President Sambi has met with the most important international leader possible such Barak Obama President of the United States of America and Turkish Prime Minister Recep Tayyip Erdogan to discuss his cause. Doors have been opened to Arab investments, and funds have begun to make their way to the country. This is in part down to the new regulations surrounding foreign investment funds, which ensures all moneys are strictly monitored to prevent corruption and misuse. Since President Sambi's election huge differences can be seen within the basic infrastructure of the country. The country see's new construction sites on a daily basis with improved schools roads, hospitals and hotels all in progress.
Currently the people of the Comoros remain some of the poorest in Africa and are heavily reliant upon foreign aid and remittances from the Diaspora. What is clear however is that for the first time these people may have some hope for the future. President Sambi is certainly focused on turning the country's fortunes around and if international support and financial funding continue the Comoros is sure to see the dramatic changes they so desperately require.
###