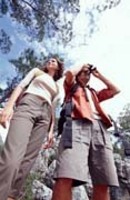 These days, everyone is watching their pennies, but you should never have to sacrifice quality just because you're getting a reasonable price
Hauppauge, NY (PRWEB) March 26, 2009
Binocular enthusiasts who are searching for high quality binoculars, optics, equipment and superb customer service don't need to hunt any longer, thanks to the launch of the new website BinocularSale.com.
The website was created to serve as a high quality, yet affordable, one stop shopping site for anyone interested in buying binoculars. To ensure a positive shopping experience, the owners of BinocularSale.com ensure fast delivery time and superb customer service, with shipment of all products going out within 48 hours.
The owners of BinocularSale.com know that with today's economy, money is tight for many people, so they are selling their brand name binoculars at highly competitive prices.
"These days, everyone is watching their pennies, but you should never have to sacrifice quality just because you're getting a reasonable price," according to AJ Delport (Co-founder).
BinocularSale.com was created with the goal of providing a one stop shop for all binoculars and other optics equipment, to provide superb customer service, and to bring the best brands from around the world to their customers.
The owners hope to make outdoor and sports enthusiasts more aware of the benefits of owning a quality binocular, which will last longer, and provide a much more enjoyable viewing experience to users.
To make it easier to find exactly the right binocular or viewing equipment, categories have been very carefully selected for each brand and style of binocular, to ensure that buyers searching for any price point or type of equipment can find it quickly and easily.
They also ensure that all of the brand name binoculars sold on their site are the genuine article, shipped directly from the manufacturer.
"We want buyers of binoculars to be able to buy quality equipment with confidence," marketing manager Reinhardt Gallowitz said.
One of the relatively new brands "Carson" has been added to the site to give outdoor enthusiasts the chance to get their hands on a new brand of high quality optics at half the usual price compared to same quality "high class, high priced" binoculars.
"We welcome BinocularSale.com as an authorized e-tailer of our brand, Carson binoculars and sport optics. As binocular enthusiasts, they have created the perfect destination site for binocular lovers," Richard Cameron (CEO of Carson) said.
Binoculars on the site feature the highest rated optics for performance and image-feedback quality.
Binoculars suited to hunters, fishers, hikers, birdwatchers, and any other outdoor activity, are available on the website. There are also smaller, less expensive models for children, as well as high definition binoculars, compact binoculars, monoculars, pocket microscopes, and numerous other items in prices ranging from a few dollars to the thousands of dollars.
Lens cleaning equipment and tripods are also featured on the site.
For more information or to view their full range of products, please visit BinocularSale.com
About BinocularSale.com
BinocularSale.com is a website that provides the outdoor enthusiast with the opportunity to get his/her hands on the latest binoculars and other optics equipment.
# # #