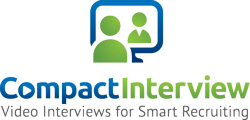 LinkedIn should scrap the flawed endorsement feature and come up with more robust initiatives. 'Just One Click' is simply not good enough.
London (PRWEB UK) 17 April 2013
Rupert Sellers, founder of the pioneering UK video interviewing service, Compact Interview finds 'LinkedIn Endorsements' has seriously dented the credibility and integrity of LinkedIn's recruitment platform and reports that many hiring managers feel the same way.
In September 2012, LinkedIn launched their endorsements feature with the strap-line "Give Kudos with just One Click".
"But 'Just One Click' is simply not good enough," comments Sellers. "What's the benefit of being endorsed by somebody you hardly know?"
Recently the company reported over 1 billion endorsements were made in less than six months. LinkedIn claims that a member's profile is '4 times more likely to be viewed if you've been endorsed'.
Sellers argues the endorsements feature makes it impossible for a recruitment manager to differentiate between candidates.
"LinkedIn should scrap this flawed endorsement feature and come up with new, more robust initiatives to help validate individuals. Perhaps insight gathering tools using video could be applied." continued Sellers. "If LinkedIn provided members with the opportunity to showcase their soft skills using video interviewing technology, this could add a very beneficial and interesting dimension for recruiting purposes."
One of the most useful features currently on LinkedIn is 'Recommendations'. In addition to displaying their resumes or CVs on their profile, members can also show references. The person who gives the written recommendation is visible on the recipient's profile, so the comments generally have value.
The world's largest network of professional talent revolutionised recruitment by providing a global database of resumes, which potentially anyone could tap into. Unlike static talent banks held by recruitment agencies and employers where it's difficult to keep candidate details up to date, LinkedIn members typically update their profiles when they move job, ensuring most data on the network is current.
LinkedIn set out to be the default place for candidates looking for new jobs, and for employers hiring them, moving both categories of users away from more traditional channels such as recruitment agencies and job boards.
LinkedIn has amassed over 200 million members from around the world and can deservedly claim to have a more discerning network with a focus on business use rather than social use.
"As LinkedIn approaches its 10th anniversary, the recruitment platform seems to be suffering an identity crisis. Let's hope it re-focuses and rebuilds credibility amongst its users so it's still around in another 10 years' time," comments Sellers.
About Compact Interview
Rupert Sellers, CEO & Founder of Compact Interview is a graduate of Oxford Brookes University in Hotel Management. He spent 20 years working in luxury hospitality, including management roles with Ritz-Carlton and Four Seasons, before joining an established search firm in London and was board director for 8 years. In 2010, Sellers launched Barometa, a specialist recruitment company with an integrated and bespoke video interviewing system. This led to the development of Compact Interview which enables employers to screen candidates directly with customised video interviews. The privately held company is based in Shoreditch, London.
Contact Information
Rupert Sellers
Compact Interview
http://www.compactinterview.com
+44 20 3130 4935