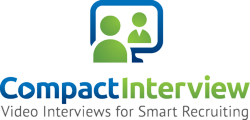 Candidates hate filling applications forms ...and will simply drop out if you force them through too many hoops.
London, UK (PRWEB UK) 14 May 2013
Recruitment can be stressful, costly and inefficient. Rupert Sellers of Compact Interview, specialists in video interviewing to provide businesses and applicants with a faster and more efficient recruitment process, provides six do's and don'ts to make sure the good candidates don't slip through the net.
1. Do empathise with applicants
Candidates hate filling application forms, whether applying for a position directly on your website or via a job board. Recruiters want to glean information but it shouldn't be an endurance test. Impersonal recruitment processes can be obstructive and many candidates will simply drop out if you force them through too many hoops.
At the initial stage, applicants may not have emotional attachment to your brand, so simplify your application form to keep them engaged. Take a moment to apply for one of the jobs listed on your site. If the form is long and tedious, you need to change it.
2. Don't rely on robots
Applicant tracking systems (ATS) can seem like a no-brainer for quickly eliminating candidates without the right skills and experience. But beware, many applicants know how to beat the system and stuff their CVs with keywords to pass the first sift. There is no substitute for human judgement, and gaining insight from CVs alone is fraught with challenges.
Job boards may allow candidates to apply for multiple 'suggested jobs' at the click of a button. As a consequence, it's likely that a high proportion of candidates through this channel will not remember what jobs they applied for and will not have spent time to digest your requirements.
3. Don't be too quick to rule out CVs
Good talent is constantly overlooked because hurried recruitment managers review and discard CVs in a matter of seconds.
There could be a good reason a candidate has only stayed in their last post for three months, and they may not be able to explain it on a CV. A candidate may work in a different industry, but try to see through the differences and find the transferable skills.
4. Do use social recruiting wisely
LinkedIn recommendations and endorsements may be useful for substantiating candidates, but they are no substitute for reference checking. Many contacts in a candidate's network barely know the person they are endorsing, never mind how well they perform in their current job. Recruiters must always conduct proper reference checks.
5. Don't keep candidates waiting
Good candidates have limited time for applying and interviewing. They are busy in their jobs and expect the recruitment process to be straightforward and efficient.
If you are going to phone screen or meet candidates in person, make sure you provide sufficient scheduling options, and bear in mind that half of all candidates request interviews to take place out of office hours. When candidates come to interview, don't keep them waiting. It leaves a lasting negative impression of your organisation.
6. Do save time with innovative screening tools
One of the biggest recruiting headaches is scheduling. Finding time for busy recruiters, interview panels and candidates to get together, without the competition getting there first, can be particularly challenging.
Video interviewing is a quick and easy solution for scheduling challenges, enabling candidates to showcase themselves and recruiters to evaluate them in their own time.
Processing application forms and screening CVs against the clock is a difficult job and it is unsurprising that candidate quality can suffer as a result. Successful recruitment is more likely if hiring managers look beyond the traditional methods and break down communication barriers.
Compact Interview will be exhibiting at the CIPD Recruitment Exhibition at Olympia on 19-20 June 2013.
About Compact Interview
Rupert Sellers, CEO & Founder of Compact Interview is a graduate of Oxford Brookes University in Hotel Management. He spent 20 years working in luxury hospitality, including management roles with Ritz-Carlton and Four Seasons, before joining an established search firm in London and was board director for 8 years. In 2010, Sellers launched Barometa, a specialist recruitment company with an integrated and bespoke video interviewing system. This led to the development of Compact Interview which enables employers to screen candidates directly with customised video interviews. The privately held company is based in Shoreditch, London.
Contact Information
Rupert Sellers
Compact Interview
http://www.compactinterview.com
+44 20 3130 4935