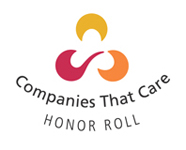 These employers are among the best in the nation. They have remained engaged with their employees and communities in the toughest of times.
(Vocus/PRWEB) March 17, 2011
Companies that care respect employees and are committed to community service. They demonstrate 10 Characteristics that go to appreciating people, creating work/life balance, and giving back. This uniqueness defines the standard for all organizations that strive to be recognized as best places to work and being socially responsible.
And, this year, the companies that fit those 10 characteristics have made the Center for Companies That Care 2011 Honor Roll.
The Honor Roll, a national list recognizing employers for outstanding workplace practices and active community involvement, includes privately-held and publicly-traded organizations, as well as not-for-profit employers.
"These employers are among the best in the nation," says Marci Koblenz, co-founder and president, Center for Companies That Care. "They have remained engaged with their employees and communities to understand their needs and, in most cases, not only meet them, but exceed them. When times have gotten tough these employers have increased communication and employee involvement. They clearly realize how values-driven practices make a difference."
Two key components of the selection process are a written application and employee survey results.
This year's Honor Roll includes:
AAA Mid-Atlantic
Baxter Credit Union
Bright Horizons Family Solutions
CB Richard Ellis Group, Inc.
Childrens' Creative Learning Centers
Convergint Technologies
Delnor Health System
Enterprise Fleet Management
Holy Name Medical Center
KPMG LLP
Lake Forest Graduate School of Management
Ryan, Inc.
Sherman Health
Sysmex America, Inc.
The Care of Trees
Umpqua Bank
University HealthSystem Consortium
WellStar Health System
The Honor Roll is announced in conjunction with the launch of CAREDAYS, an annual month-long, national initiative to address a significant societal issue.
CAREDAYS11: Terrific Tales supports childhood literacy by ensuring under-resourced classroom libraries have age-appropriate books for children to read.
"Individuals and organizations are encouraged to either donate books or raise funds to purchase books for 1000 classrooms. If we all do a little, we can truly accomplish a lot!" says Koblenz.
Honor Roll recipients will be officially honored at a 360° engagement conference in Portland in May, where Joseph Grenny, the author of "Crucial Conversations" is keynoting. It is open to the public.
Center for Companies That Care is a national, 501(c)3 not-for-profit organization dedicated to engaging employers in improving the lives of needy employees, families and communities. For more about Center for Companies That Care, the Honor Roll, the community symposium, or CAREDAYS11: Terrific Tales, visit http://www.companies-that-care.org or call 312.661.1010.
###