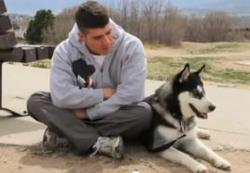 With almost 300 honorable adoptions to-date, Pets for Patriots is performing a vital role in matching at-risk shelter pets with military members.
New York, NY (PRWEB) December 11, 2012
The Petiquette with Andrea Arden: Good Manners for Good Pets training blog has launched on the Pets for Patriots website. The blog covers categories including: cat training, dog training, dog behavior, humane education, pet adoption, pet behavior problems, pet health & safety and more. Visitors can also ask Andrea questions and selected questions and answers are posted.
Andrea is thrilled to be a part of Pets for Patriots' efforts to help its members successfully adopt and share their lives with shelter pets. "With almost 300 honorable adoptions to-date, Pets for Patriots is performing a vital role in matching at-risk shelter pets with military members. I hope the information and questions and answers bring more awareness to the important work this group is doing," says Arden.
Pets for Patriots, Inc., is a registered 501(c)(3) charity that helps military members honorably adopt adult and at-risk shelter pets. Its mission is to consistently give the gifts of fidelity, joy and companionship to both pet and person. Pets for Patriots is one of the only organizations in the country dedicated to both adult pets and military members. The charity is a proud member of the Army AW2 Wounded Warrior Program national community support network, a national partner of the Real Warriors Campaign and is listed by the National Resource Directory for ill and wounded veterans.
Men and women at all stages of their military careers: active, retired, veteran, prior service, reserve, inactive reserve and national guard, from all branches of the military, including the Coast Guard are eligible for an honorably adopted pet. Military service members and veterans, potential donors, corporate sponsors/grantors, shelters, rescues, SPCA or humane societies and veterinarian/veterinary clinics are all encouraged to find out how they can participate.
To find out more about Pets for Patriots, Inc. you can visit their website or call Toll-Free: 877-4-PET CADET (877-473-8223) or 516-670-8446.
Andrea Arden is an Animal Planet pet expert, a Certified Pet Dog Trainer, a Certified Pet Partners Team evaluator for the Delta Society, and a certified evaluator for the AKC's Canine Good Citizen test, as well as director of Andrea Arden Dog Training in New York City. Andrea is the author of five training books, was the behavior columnist for Dog Fancy and The New York Dog Magazines, and is a contributing writer for the AKC Gazette, Modern Dog, and numerous other publications. Andrea can be seen on Animal Planet's shows Dogs 101, Cats 101, Pets 101, America's Cutest Dog and America's Cutest Cat. She was named the best dog trainer in New York by New York, W, Time Out, and Quest magazines and the Daily News. You can visit Andrea's website, email info(at)andreaarden(dot)com or call 212-414-9597 for more information.
###