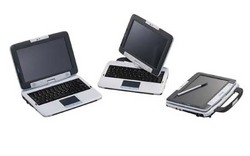 Intel is excited to support M&A Technology in the launch of the Companion Touch solution for education based on Intel technologies. The Companion Touch helps realize the vision and benefits of 1:1 computing in education, enriching learning experience for our students in the United States
Dallas, TX (PRWEB) January 9, 2009
M&A Technology, a leading provider of technology products and services, will offer the Companion Touch as part of the Intel Learning Series. The Companion Touch is an Intel-powered classmate PC with touch screen functionality to enhance learning in K-12 market. This tablet version of the classmate PC will be available for distribution in the US market on January 9th. The Companion PC which has the classic mini-notebook design and Companion Touch are being adopted in many schools for the 1:1 computing initiative which provides one notebook per student. The two devices are expected to reach over 80,000 students by the end of this year according to industry sources.
With the influx of mini-laptops into the educational market, the Companion Touch addresses the need for a low cost tablet PC in the K-12 market. The convertible screen makes it easier for students to interact with the device and share their work in group activities. The built in webcam swivels 180 degrees to capture pictures and movies from different angles. The Companion Touch comes with a built-in handle and a skin that can be customized with school colors and logo. It is built to withstand the day-to-day usage by students.
As more schools adopt the 1:1 computing initiative, the Intel Learning Series which includes the Intel-powered clamshell classmate PC and the convertible classmate PC designs will be their devices of choice. The Total Cost of Ownership for these learning devices is lower than that for other mini-notebooks because of the ruggedized features that are built-in these devices. The M&A Companion PC and Companion Touch will be available in limited supply through CDW Government, Inc. (CDW-G) which makes these devices available for all schools coast to coast.
"Intel is excited to support M&A Technology in the launch of the Companion Touch solution for education based on Intel technologies. The Companion Touch helps realize the vision and benefits of 1:1 computing in education, enriching learning experience for our students in the United States," said Lila Ibrahim, general manager of Intel's Emerging Market Platforms Group which developed the reference design.
The Companion Touch is low-cost and fully functional tablet PC based on the Intel-powered classmate PC design for students K-12. The standard configuration will be priced at $499.00 which includes the Intel Atom 1.6GHz processor, 1 GB RAM, 60GB hard drive, 9" LCD touch screen and 1.3 MP swivel webcam. It comes with a built-in handle and a stylus pen. It runs Microsoft Windows operating system with touch screen interface. Students can interact with the device using the stylus or simply by pressing on the screen with their fingers. When loaded with educational software, this device helps students learn and develop with technology. Teachers utilize this device to create a fun learning environment for students that keeps them connected with technology. A full description of the product is available at http://www.macomp.com/companiontouch.
About M&A Technology:
M&A Technology, a leader in the educational market, offers a wide range of technology solutions that are based on innovation to improve learning through technology. In addition, M&A Technology provides a unique platform for contract manufacturing and custom built servers and workstations. With over 400,000 technology products available online, M&A Technology is your trusted source for IT products and services since 1984 (http://www.shopmanda.com).
Contacts:
M&A Technology
2045 Chenault Drive
Carrollton, TX 75006
Toll Free 800-225-1452
http://www.macomp.com/
# # #