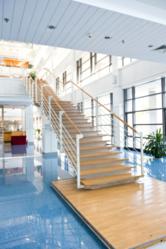 If you don't manage your culture, it will manage you.
San Diego, CA (PRWEB) July 08, 2013
In the battle to attract the best talent, corporate culture is playing an increasingly important role. Cheryl Morris recently reported in the Harvard Business Review that more and more companies are creating "culture decks" – slides shows that visually communicate a company's culture and workplace attributes – in order to help prospective employees answer the question, "Why should I work here?"
Dr. Sherry Nooravi, a principal consultant with Strategy Meets Performance, a San Diego-based management consulting firm, believes that one way to improve a company's culture, and its performance, is by designing the office/workspace to support better teamwork, communication and collaboration.
"In offices where employees are actively engaged in brainstorming, writing ideas, focused conversations, or casual chatting, there is a method and design behind the open collaboration," says Nooravi. "Just as leaders take time to create and communicate the corporate strategy, paying attention to where and how employees execute this strategy is a key to boosting productivity, innovation and morale."
According to Nooravi, this method and design involve using "four C's" to plan, and implement a workspace that supports the corporate values and culture:
Collaboration. A critical part of designing a company's workspace is getting employee input, involvement and participation. Senior management may think they know what's best the company. But unless they review the design concept with front-line employees, they may end up with a workspace that does not fit the way people work together within the company.
Community. A successful design process must also balance individual employee needs with larger corporate goals. For example, many companies are now designing offices with a lot of open space to welcome customers into the community and promote unplanned encounters and collaborations.
Creativity. Making space for individual and group creativity and chance encounters has been found to support different types of collaboration, from mentoring and problem solving to information sharing. When designing the workspace, ask how it will help employees be more creative.
Corporate values. Designing a new workspace offers a great opportunity to strengthen the culture by providing opportunities for people to live the corporate values and brand. For example, if innovation is a core value of the company, how does the workspace support that value?
The 4 C's in Action
As an example of creativity and corporate value, Nooravi points to Bop Design. The San Diego web design/marketing firm recently updated their team space in their LEED-certified office in order to further enhance innovation, one of the company's core values.
"When doing individual work, we have our creative hats on most of the time," said Kara Jensen, CEO of Bop Design. "We wanted to create a space that would encourage more group brainstorming, spontaneous discussion, and intra-department problem solving."
Bop Design is also using their redesigned space to remind people of the company's values by having them displayed prominently in the team meeting area. Similarly, LifeProof, a producer of cell phone cases, has done this by naming their conference rooms after their values.
Cushman Wakefield, a San Diego real estate firm, exemplifies the principle of community. The company recently designed its office with natural lighting throughout the floor and a layout that gives leaders the same open workspaces as employees. Without walls to separate them, people instinctively work together on more projects and ask each other for input on ways to add value to clients.
"If you don't manage your culture, it will manage you," adds Nooravi. "When designing your workspace, take the best of your existing culture and make changes that will enhance it. Use the four C's as a way to collaboratively create change, but also as a way to impact your company's culture and employee engagement."
About Strategy Meets Performance
Strategy Meets Performance is a San Diego-based consulting firm that helps companies bridge strategy to performance by developing solutions that lead to a strong culture and team. Their work results in company-wide shifts in behavior that lead to accountability, energy and a more dynamic environment for employees. Dr. Nooravi is an organizational psychologist and principal consultant of Strategy Meets Performance.