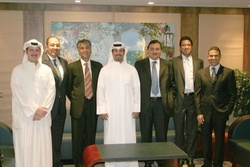 The opportunities shall be seized to make use of the loan in financing a distinguished package of investment opportunities which will be disclosed in the near future
KUWAIT (PRWEB) October 24, 2007
Mr. Abdulwahab Al-Nakib signed the loan agreement with the representative of the Mandated Lead Arranger - Standard Chartered Bank, in presence of representative of the Lead Advisor Alpen Capital during the signature ceremony held in Kuwait, Mr. Al- Nakib said "Obtaining this syndicated loan for Al-Deera Holding Company within such short period taken for arranging the loan is an indicative of the economic strength the Company enjoys and its well reputation with financial institutions locally and internationally. This also shows those institutions confidence of the future plans and successful strategies adopted by the Company. Such plans and strategies are intended to structured and deliberate growth on the medium and long terms, and the loan shall be used in financing and enhancing the Company's future plans.
Mr. Khaled Magdy Al-Marsafy, General Manager of Al-Deera Holding Company added "Al-Deera has now successfully initiated a close working relationship with an international syndication of financial institutions. This reflected well on lowering the cost of borrowing at Al Deera and paves the way for the company in the future to structure large sophisticated financing instruments with well recognized international banks".
Standard Chartered representative "Standard Chartered Bank as a Mandated Lead Arranger is proud to have had the opportunity to assist Al Deera in bringing their debut deal to the syndicated loan market and would like to thank the Company for choosing us. The consortium of lenders participating in this transaction represents a diverse group of banks from the Middle East. And SCB would like to thank them for joining the syndication and supporting this deal".
Al-Deera Holding Company is considered as one of the leading companies in its line of business. The Company focuses on investment in private and public companies which witness strong growth, most salient of which on the local level are: International Financial Advisors (IFA) ,Kuwait invest, International Finance Company, International Investment Projects Company, Kuwait National Lube Oil manufacturing Company, Marketing Services Company, First Takaful Insurance Company, Jeezan Holding Company, Univest Group, ABC Real Estate Company, and Aiwa Gulf Company.
On the regional and international levels, the Company holds equity investments in companies such as the Kingdom Hotel Investments Company, Triton Distribution Systems Company, US Helicopter Co, BPL Global, PCNY Pollo Campero Co, Chart Venture Partners, the Chart Group Company and SeaMobile. As such Al-Deera relies upon the geographic distribution of its investments for the purpose of distribution of its risks.
Al-Deera Holding Company's assets at the end of June 2007 reached KD 186 million, shareholders' equity reached KD 157 million, net profits reached KD 18 million, and the profit/earning share reached 52 fils, taking into considerations that Al-Deera Holding has only been listed for two years in Kuwait Stock Exchange.
Worth mentioning, Alpen Capital played a significant and pivotal role in arranging the loan's term sheet in its preliminary phases, which was signed between both Al-Deera Holding Company and the Mandated Lead Arranger - Standard Chartered Bank.
Mr. Al Nakib concluded the ceremony by saying "The opportunities shall be seized to make use of the loan in financing a distinguished package of investment opportunities which will be disclosed in the near future".
About Al Deera Holding
Established in 1998, Al-Deera Holding is a Kuwaiti shareholding company (KSE:ALDEERA), listed on the Kuwaiti Stock Exchange since 2005 Al-Deera Holding Company is considered as one of the leading companies in its line of business. The Company focuses on investment in private and public companies which witness strong growth
Since its inception, ALDEERA has adopted a balanced expansion strategy that allowed for mitigating risk, while maximizing investment return. By maintaining a diversified portfolio - both in terms of the geographical and industrial distribution of investments - the company has been able to maintain steady growth in its net profits; as a result of such a strategy.
ALDEERA's investments have also focused on building alliances and strategic partnerships that allow for developing the company's competitive edge especially in as far as competing for top-tier business opportunities is concerned. A good example would be ALDEERA's salient investment in Chart Group.
Standard Chartered - leading the way in Asia, Africa and the Middle East
Standard Chartered PLC is listed on both the London Stock Exchange and the Hong Kong Stock Exchange and is consistently ranked in the top 25 among FTSE-100 companies by market capitalization.
Standard Chartered has a history of over 150 years in banking and operates in many of the world's fastest-growing markets with an extensive global network of over 1,400 branches (including subsidiaries, associates and joint ventures) in over 50 countries in the Asia Pacific Region, South Asia, the Middle East, Africa, the United Kingdom and the Americas. With strong organic growth supported by strategic alliances and acquisitions and driven by its strengths in the balance and diversity of its business, products, geography and people, Standard Chartered is well positioned in the emerging trade corridors of Asia, Africa and the Middle East. Standard Chartered derives over 90 per cent of profits from Asia, Africa and the Middle East. Serving both Consumer and Wholesale Banking customers worldwide, the Bank combines deep local knowledge with global capability to offer a wide range of innovative products and services as well as award-winning solutions.
About Alpen Capital , Dubai
Based in the Dubai International Financial Centre (DIFC), Alpen Capital is a leading investment bank providing financial solutions to institutional and corporate clients across GCC and South Asia. Alpen Capital specializes in combining the disciplines of strategy, organization, leadership and finance into an integrated approach, with the aim of helping clients to grow and increase their long-term value.
Alpen Capital's associate Bank Sarasin -Alpen, subsidiary of Bank Sarasin & Co, is a leading private bank offering private banking solutions to corporate and institutional clients across GCC and South Asia. Founded in 1841, Bank Sarasin is a leading Swiss bank with global portfolio management and private banking services as its core competence. Rabobank, the only "AAA" rated private bank, is the majority shareholder of Bank Sarasin & Co.