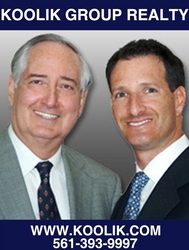 Boca Raton, FL (PRWEB) October 22, 2010
Elliot Koolik, Boca Raton real estate agent of Koolik Group Realty, recently announced the launch of a new Boca Raton Area Real Estate Guide which is available to download, free of charge at the company's website: http://www.koolik.com. The Boca Raton Area Real Estate guide compares Florida school information and links, reveals exciting community features, and provides detailed information on homes for sale in Boca Raton and Delray Beach as well as golf courses and South Florida attractions.
Whether you are new to the Boca Raton area or are just looking to explore your surrounding neighborhoods; look no further than Koolik Group Realty's Boca Raton Area Real Estate Guide. The guide showcases a variety of sought after homes for sale in Boca Raton in gated communities such as Woodfield Country Club and Fieldbrook Estates, golf and tennis country clubs like Boca Grove and Seasons, and also features luxury condominiums such as Mizner Grand in the Boca Raton and Delray Beach areas.
If you are looking to move within Boca Raton but are worried about staying in a particular school district, Koolik Group Realty's guide offers a comprehensive look into the Palm Beach County school district comparing the Florida schools. The guide provides links to boundary maps, zoning, school calendars, school ratings, and test scores to help choose the right elementary, middle, or high school; whether public, private or charter.
Boca Raton real estate agent and owner of Koolik Group Realty, Elliot Koolik, states that "the objective of this guide is to provide residents and visitors alike with a myriad of information, links and maps on the location of these popular communities, their residential features, amenities, a directory of local golf courses; as well as, popular south Florida attractions."
###