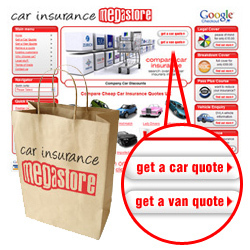 Wolverhampton, UK (PRWEB) September 28, 2008
The Car Insurance Megastore compare.com type website avoids the credit crunch on huge interest charges. Consumers are already feeling the continuous battle to gain cheaper car insurance and then the added pain of having to pay over the odds for there cheap car insurance quote over monthly instalments. The Car Insurance Megastore compare.com website have now revealed that they are reducing their interest rates on monthly car insurance payments to 12.5%, compared to some insurers with whopping interest rates of 28% and above, The Car Insurance Megastore can now save you even more money.
The Car Insurance Megastore's massive reduction of interest rates has created quite a stir in the market place and other high street and direct insurers with such great overheads are having great difficulty in matching such a low interest rate, less than half that of many of the major insurers and compare.com type websites.
Here at The Car Insurance Megastore, we urge all car insurance shoppers to check not only the initial quote of the car insurance policy, but also the interest rate and monthly repayments as it is quite common for mainstream insurers to hide a substantial amount of profit within the interest rates themselves. Many high street, direct and compare.com type insurers keep the initial cost of the car insurance quote to a minimum to coax the client into purchasing and then increase the interest rates of the monthly repayments.
Many of the UK's lowest quoters refrain from boasting about their high interest rates of 28% which if paying your insurance repayments over a full year can increase that quote by almost a third. Which means that possibly they may not have been the lowest quote after all when considering the interest rates paid over that year.
The Car Insurance Megastore is also proud to offer an interest free scheme for a short term repayment plan. So if you are in the market for a new car insurance policy, you would be wise to visit The Car Insurance Megastore compare.com website for the latest savings and low interest rates on all of their policies.
The Car Insurance Megastore unique compare.com type pricing structure ensures that you not only get a fair quote but that you also have many options for your repayments ranging from 0% up to a modest 12.5% APR on your policy repayments. Also providing a full policy information specification sheet prior to committing to a purchase, makes The Car Insurance Megastore stand out from the ever increasing crowd of high street and direct insurance providers and the typical compare.com type websites which so often frequent our television screens and the media.
For fair and truly transparent car insurance quotes and policies, contact The Car Insurance Megastore today and save money on your car insurance and your monthly repayments.
###