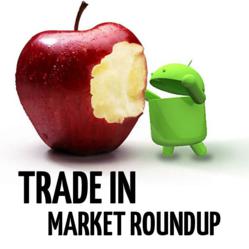 We're excited to see that the huge sales seen by Android in 2013 are finally being reflected in the trade-ins.
(PRWEB UK) 28 May 2013
Get the full res supporting data files and infographic here.
Huge volumes of Android sales are finally being reflected in trade-in data, according to leading mobile phone recycling comparison site CompareMyMobile.com.

Samsung Galaxy S3 is most traded-in Android following S4 release
40% increase in Samsung trade-ins in May
Android trade-in market share up by 21% in first quarter of 2013
There has been a 39% increase in the top 5 Samsung trade-ins, following the release of the Galaxy S4 last month, according to data from CompareMyMobile.com which collects data from over 40+ recycling companies in the UK.
The site saw a massive 127% surge in online Samsung valuations in the run up to the long awaited release of the device. Upon launch of the S4 the rest of the Galaxy range saw an above average 20% drop in value - This is naturally due to a new version coming out, but also impacted by a sudden increase in volumes of devices reaching the recyclers, the prices are so not too many devices are taken in while the price drops to avoid negative profits from recycling routes.
The Samsung Galaxy S3 still remains the most traded-in Android on the site, with a value of £203* as loyal fans upgrade to the new S4 device. *according to data on 21/5/13 – value on the site are subject to change.
HTC have also seen a 32% increase in their trade-in market share following the release of the HTC One and GS4. Together the loyal fans and new customers of these brands have lead the way in increasing the Android market share by 21% in the first quarter of this year.
This is the first time non-Apple products have caused such a spike in online valuations through CompareMyMobile.com – suggesting a huge current loyalty to Android devices.
Co-founder of CompareMyMobile.com, Ashley Turner, says, "We're excited to see that the huge sales seen by Android in 2013 are finally being reflected in the trade-ins. As consumers standard contract terms of 12/18/24 months run out or a new device is released we see a real dent in normal trends on comparemymobile.com"
Blackberry share of the trade in market has decreased 6%, this could be down to the minimal releases in 2012, however CompareMyMobile.com did expect to see more BlackBerry trade ins during their recent release of the Q10 and Z10.
The site's data shows that it is Apple who has decreased the most in 2013, losing 8% of their total trade-in market share in 2013.
Current brand trade-in share:
1. Apple: 41.8%
2. Blackberry 18.6%
3. Samsung 17.4%
4. Nokia: 8.1%
5. HTC: 7.9%
But, loyal fans await the latest models to be announced like the iPhone 5S, iPhone 6 and iPad 5 this number, the site predicts that this hype could boost their trade-in share once again.
"We've seen from our own website stats that the amount of users coming from a tablet has increased dramatically in a 12 month period. The release of a significant tablet e.g iPad 5 will provide the biggest non mobile spike in trade ins yet."
Are Androids taking over?
Data from CompareMyMobile.com, which shows the increase in online Android valuations and trade-ins during recent Android releases, certainly give cause for celebration confirming large volumes of loyal upgrades. These stats from the site, as well as news that Android devices have the highest shipping volume, do suggest the huge popularity surrounding the operation system and its handsets at this point in time.
About CompareMyMobile
Founded in 2009, CompareMyMobile.com is the UK's #1 source for independent mobile phone, tablet, sat nav, laptop, iPad, iPod and games console recycling price comparison. It delivers customers confidence in making the difficult decision of where to recycle their old phone safely and for the most money. CompareMyMobile.com is 100% impartial, comparing prices from more than 40 recycling stores.
Media contact:
Ashley Turner
Marketing Director
CompareMyMobile.com
Email: ashley(at)comparemymobile(dot)com
Telephone: (+44) 7590 116 943