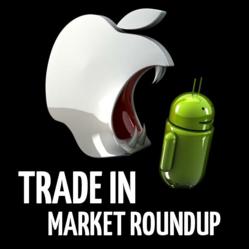 Normally we see a increase in users coming on our site to see what their new upgrade is worth second hand but to see a device such as the iPhone 5 be valued and traded in so much, so early after it's release is abnormal.
(PRWEB UK) 29 May 2013
Get the full pack of hi res data infographics here.
Data from CompareMyMobile.com shows people could be recycling their upgraded device, suggesting disappointment with the flagship iPhone 5.

£1.3 million worth of iPhone 5s were traded-in between September 2012 and May 2013.
The iPhone 5 saw a 23% drop in value between January and May 2013 – the second biggest drop in the Apple brand.
Apple have seen a 9% dip of recycling market share since January 2013.
A massive £1.3 million worth of iPhone 5s have been traded-in since the release in September, according to data from leading mobile phone comparison site CompareMyMobile.com. Despite only being on the market for 9 months, this makes it the most traded-in device on the site this May 2013.
So, with the average phone contract lasting for around 18 months, a high sim-free price and no sign yet of a new iPhone 5S or iPhone 6, why are people selling these handsets?
CompareMyMobile.com data shows that there have been abnormal increases in online valuations and trade-ins following several big device releases in 2013. It could be suggested that consumers have been disappointed with their upgraded iPhone 5. Despite a sleek design and greater speed there was controversy surrounding its release, with many believing the smaller upgrades weren't worth the wait following the iPhone 4S.
As you would expect from the release of the latest Apple device, there was a huge buzz surrounding it, creating a huge 367% surge in Apple trade-ins. People loved the idea of having the latest iPhone.
In fact, there was a 40% drop in the value of iPhones across 40+ UK recyclers, as the surge caused such a lack of demand in the market. It took an entire month for the prices to increase again. The iPhone 3GS suffered most, losing 33% in value, closely followed by the iPhone 5 which saw a 23% drop. Still, the iPhone 5 still remains as having one of the highest values on the site at £315. *according to data from CompareMyMobile.com on 20/5/13 – prices are subject to change
Could people be taking advantage of this price to switch to a different brand?
Co-founder of CompareMyMobile.com, Ashley Turner, says, "Normally we see an increase in users coming on our site to see what their new upgrade is worth second hand but to see a device such as the iPhone 5 be valued and traded in so much, so early after it's release is abnormal."
In 2012 data from leading mobile phone recycling comparison site CompareMyMobile.com showed that Apple dominated the mobile phone recycling market– holding a massive 50.3% share. But it seems this is changing in 2013, with Apple losing almost 10% within the first five months, again this could tie into the lack of a significant Apple releases.
Samsung and HTC's market shares have increased by 5% and 2% respectively following the loyal trade-ins from fans. With new flagship devices like the Samsung Galaxy S4 and HTC One, and nothing new from Apple, it's hardly a surprise that these brands are starting to eat into Apple's space.
So, what's the future for Apple?
Despite the surge in trade-ins and criticisms of their most recent smartphone, it still shouldn't be forgotten that Apple are the leaders by a long stretch, holding 41.8% of the market share. Apple products hold the top five positions in the popular phone rankings, suggesting people are still upgrading to the newer models.
On top of this, Apple still have more up their sleeve. With consumers eagerly awaiting announcements on the iPhone 5S or 6 and the iPad Mini 2, CompareMyMobile.com are still expecting another huge surge in trade-ins and mass excitement for these new devices. Apple is still a brand that people want to own.
About CompareMyMobile
Founded in 2009, CompareMyMobile.com is the UK's #1 source for independent mobile phone, tablet, sat nav, laptop, iPad, iPod and games console recycling price comparison. It delivers customers confidence in making the difficult decision of where to recycle their old phone safely and for the most money. CompareMyMobile.com is 100% impartial, comparing prices from more than 40 recycling stores.
Media contact:
Ashley Turner
Marketing Director
CompareMyMobile.com
Email: ashley(at)comparemymobile(dot)com
Telephone: (+44) 7590 116 943