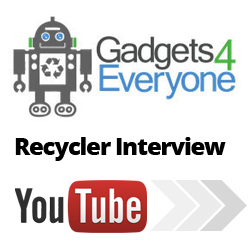 CompareMyMobile.com is about to surpass 50 GBP million phones being recycled through our comparison service alone.
Bournemouth (PRWEB UK) 28 June 2013
See the full interview here.

Watch the full recycling process be explained
Operations Manager states why people may receive less money than they were expecting
Leading recycler was once sent a pocket torch claiming to be an iPhone 5
Leading mobile phone recycling comparison site CompareMyMobile.com has become one of the most trusted comparison tools on the internet, according to top reviews on Trust Pilot. Their aim is to be as transparent as possible - giving people the best advice with a focus on customer happiness.
Trust in the UK recycling market can be low, with people assuming there will be a 'catch' such as not getting the money they were promised, or not getting their money very quickly. With this in mind, CompareMyMobile wanted to give consumers a behind the scenes look into the recycling world.
The site have conducted an interview with Gadgets4Everyone, a leading UK recycler, asking how they started up, for more information about the recycling process, money queries and how they are looking to improve.
Managing Director of Gadgets4Everyone, Sam Hargreaves, made the news last year when he became the regional winner of the Local Business Accelerators competition due to his competitive drive and determination with Gadgets4Everyone. Judges were impressed with how he started up his business from £5,000 savings, following an incident where his sister did not like the iPod he bought her for her birthday.
CompareMyMobile are in the process of organising interviews with all of their recycling partners to create a transparent view into the industry.
Co-founder of the site Ashley Turner says: "In the last several years, the gadget recycling industry in the UK has got so large. CompareMyMobile.com is about to surpass 50 GBP Million phones being recycled through our comparison service alone. We as a company felt it was time to start providing these video interviews to educate the consumer on who the recycle companies are and answer popular questions that we see every day on forums, social networks and via email."
CompareMyMobile are an independent comparison site that compare over 40 recycling companies, based on consumer reviews on the site and the prices offered for old devices, making it a lot simpler for consumers to decide who to send their old gadgets to. All recycling partners are thoroughly and regularly checked, to ensure that they are providing a trustworthy and fair service to all consumers.
About CompareMyMobile
Founded in 2009, CompareMyMobile.com is the UK's #1 source for independent mobile phone, tablet, sat nav, laptop, iPad, iPod and games console recycling price comparison. It delivers customers confidence in making the difficult decision of where to recycle their old phone safely and for the most money. Compare My Mobile is 100% impartial, comparing prices from more than 40 recycling stores.