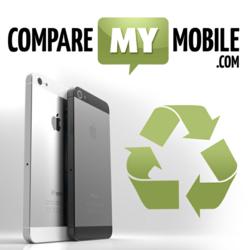 Innovative new direct order system counteracts huge 40% price drops following the iPhone 5 release
(PRWEB UK) 12 October 2012
- CompareMyMobile launches new consumer functionality to reduce time to recycle.

iPhone 5 launch sees 40% drop in apple prices.
By comparing prices, consumers can get 30% more for their devices
Following the launch of Apple's new flagship smart phone, the recycle or resale value of older devices has seen dramatic drops in September according to CompareMyMobile.com – a trusted price comparison site for mobile phone and gadget recycling.
The Apple iPhone 4 16GB was the most popular device recycled even though the device lost a whopping £67 of it's value during the month.
Andrew Beckett, Co-founder and Commercial Director of CompareMyMobile.com says: "The drops we've seen in many of the Apple range were a lot larger than expected, this can only be put down to many of the leading recyclers being under prepared for the volumes generated by consumers swapping to the latest iPhone. We've seen recycled volumes up by over 400% and by the end of the month recycling companies were reducing their prices by the hour."
He continues, "CompareMyMobile.com is a consumer focused website and we've taken huge steps recently in developing our website to benefit their experience.
CompareMyMobile has developed a innovative order placement module which allows consumers to place their recycle order directly on the website. The consumers details are then passed securely to the recycler chosen.
The recycling process from comparison website to recycler always felt very long winded, with this new development has halved the amount of time a consumers needs to take to place an order, which can be seen in the number of orders now being in placed.
This new functionality has been in place on CompareMyMobile.com for a few months now and recyclers are seeing increased trade in orders, it's really working well. We are proud to keep CompareMyMobile.com ahead to our competitors by utilising unique functionality to enhance our consumers experience."
"This new functionality has enabled CompareMyMobile.com to provide consumers with better prices through niche recycling companies that specialise in non mobile devices as well as one that don't. These niche recyclers provide our consumers with the best value for their devices when compared to some of the leading brands" confirms Andrew Beckett
Compare My Mobile is an independent price comparison site that provides free information on the value of a used mobile phones and gadgets from more than 40 recycling companies. All recycling partners are comprehensively checked for reliability, ensuring that the customer gets the best possible price and customer experience for their old handset and gadgets.
CompareMyMobile.com works with leading brands like Mazuma and Envirofone and independent user ratings mean if a company does not deliver, CompareMyMobile.com ceases its association.
For more information about CompareMyMobile visit http://www.comparemymobile.com
About CompareMyMobile
Founded in 2009, CompareMyMobile.com is the UK's #1 source for independent mobile phone, tablet, sat nav, laptop, iPad, iPod and games console recycling price comparison. It delivers customers confidence in making the difficult decision of where to recycle their old phone safely and for the most money. CompareMyMobile is 100% impartial, comparing prices from more than 40 recycling stores.