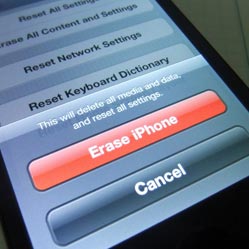 In the past 8 years at Envirofone we have had over 3 million customers and recycled around 6 million handsets and are yet to experience any problems with data
Bournemouth (PRWEB UK) 27 June 2013
See the full article here.

Responses from 16 recyclers including Mazuma Mobile and Envirofone
Majority of recyclers have strict data wiping process
Statement from Blancco CEO, third party company who securely wipe all electronic devices of personal data at a forensic level
Following recent reports stating that recycled and stolen phones, which are still full of people's personal information, are being sold on to foreign criminals looking to commit fraud – leading mobile phone recycling comparison site CompareMyMobile.com performed a mystery shop of their recycling partners asking how they ensure data is completely wiped from smartphones before they are sold on. Here's what they were told.
Envirofone:
"Before a customer sends us their phone we direct them on how to wipe their own data using our mobile memory wiper tool, we also advise our customers to remove SIM and memory cards. If a customer has not removed their SIM card we remove them during our testing process and they are destroyed. The majority of the phones we receive are already wiped however, phones that are received and sold on to our Approved Buyers will factory reset these phones before re-sale. In the past 8 years at Envirofone we have had over 3 million customers and recycled around 6 million handsets and are yet to experience any problems with data."
Mazuma Mobile:
"All our handsets are re-distributed via Approved Partners. Although our Approved Partners 'factory reset' all handsets as part of their refurbishment process, we cannot always guarantee that 100% of the data is erased especially if the handsets have secure password locks etc.
For complete peace of mind, we recommend that you use our free Mobile Data Delete Tool to erase the data from your handset(s) prior to sending them to us."
Bozowi:
"We offer a fully audited data destruction facility upon request, this service has solely been utilised by corporate customers only, we provide this service to local authorities, corporate organisations from all levels and financial institutions. This service is provided upon request and we have to date never had any enquires or issues regarding data within handsets from the general public. We advise all our customers to permanently delete all sensitive and confidential data from their devices before they are sent into our facility."
MobileCashMate:
"Wiping data is an important part of routine procedures at MobileCashMate. We also stress to our customers the importance of removing any personal sensitive content from their phone prior to sending the phone to us. However it is still a surprise to us how much sensitive data is left on phones when customers send them to us and I think as an industry we need to do more to educate customers in securely managing their personal data. To date despite processing thousands of phones per week MobileCashMate have had no data security issues with phones that have been sold on."
Money For Your Phone:
"With regards to the data, we manually test every single device that we receive and all of the data is manually wiped. We have a strict process and the only way a device can slip through without data being wiped is human error which could happen with anything. We have never received a complaint regarding data being left on the devices we distribute. We have 10 people testing phones all day and our processes are rigorously reviewed. We operate a meticulous process with little room for error."
Cash In Your Gadgets:
"We have strict data protection procedures relating to all gadgets received. In the case of mobile phones, the first part of our testing procedure is to factory reset the handsets to ensure all personal data (including emails, texts etc.) is completely and permanently erased. We'd be happy to provide details on how this can be quickly done for any handset you have, allowing you to ensure all data is removed before the phones are even collected. Should your time not allow for this, you can rest assured it will be performed promptly on their arrival with us. We ask that sim and memory cards are removed by customers prior to sending, if any are found to be present they are removed and destroyed immediately."
FoneHub:
"Thank you for your email. To be completely safe, what we suggest is to do a factory data reset, or on blackberry there is an option of security wipe. By doing this above thing, all the data on the phone should wiped completely."
PhoneRecycleBank:
"2020 Mobile operates Phone Recycle Bank. We clear down and data wipe all mobile devices that power up in order to ensure that no customer data is passed on before sell off. There are measures we take when we receive devices to try to maximise value for our corporate partners."
Cash4Phones:
"The handsets are power tested upon arrival, after which they are checked to see if a SIM card or memory card has been left inside, if it has we aim to return these products back to the client as swiftly as possible. Furthermore, the handset is reset back to factory settings after customer acceptance."
Tiger Recycle:
"Yes, we do wipe all data from phones received. We mainly use factory data reset option available in most handsets. If this option is not available, we process them wipe manually or by using specialized applications."
Gadget Panda:
"We erase all data contained on phones once they have been received. We treat all data as private and confidential. Phones are wiped of all data as per manufacturer instructions and then reformatted to factory settings before being sold on."
Money4Machines:
"All handsets that come into us here have their SIM card destroyed and the handset gets fully wiped before being tested and a full system data wipe is done at the end of the testing to ensure that all phones are 100% clear of any personal data that both the customer and the phone tester may have left on the handset. This extra measure ensures that none slip through as the tester has to go through the initial phone set up as part of their testing of a handset."
Gadgets4Everyone:
"All handsets that come into us have their SIM cards destroyed. The devices are wiped so there is nothing left of the customer's personal data and the device is restored to its factory settings. We also wipe any memory cards that we receive."
Top Dollar Mobile:
"Our company Data Policy is stated in the Terms and Conditions on the website. Furthermore, we make every effort to ensure all data is removed."
Fonebank:
Fonebank said that they delete everything and sent CompareMyMobile their certificate of data deletion.
Simply Drop:
Yes, we do delete all data from all phones we receive to make sure nothing is passed on.
Kim Väisänen, CEO Blancco Mobile:
"One method of erasing data is with software that completely overwrites the mobile device's memory, but many applications do not provide a critical element – reporting. For truly secure data erasure, solutions must produce a verifiable report with electronic serial numbers and other hardware details that prove the data is completely erased, which is necessary for regulatory compliance and a safe resale or reuse of the device."
CompareMyMobile.com always recommend that users restore factory settings on their phone, which will wipe your personal information off the device completely. But, research by the site does suggest that you can be sure, with the majority of recyclers, that they will make every effort to ensure that your data is deleted before the phone is sold on.
About CompareMyMobile
Founded in 2009, CompareMyMobile.com is the UK's #1 source for independent mobile phone, tablet, sat nav, laptop, iPad, iPod and games console recycling price comparison. It delivers customers confidence in making the difficult decision of where to recycle their old phone safely and for the most money. CompareMyMobile.com is 100% impartial, comparing prices from more than 40 recycling stores.
Media contact:
Ashley Turner
Marketing Director
CompareMyMobile.com
Email: ashley(at)comparemymobile(dot)com
Telephone: (+44) 7590 116 943