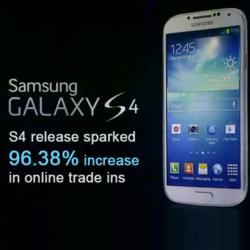 CompareMyMobile.com, has seen the number of valuations of Samsung phones increase by 96.38% since the Galaxy S4 release on Friday
(PRWEB UK) 29 April 2013
- Samsung online valuations have surged on the weekend after the launch

Are people changing brand to Samsung with the new Galaxy S4?
This is the first time non-Apple phone has greatly impacted trade-ins on CompareMyMobile.com
Leading phone recycling comparison site, CompareMyMobile.com, has seen the number of valuations of Samsung phones increase by 96.38% since the Galaxy S4 release on Friday - a huge, unique surge in Android valuations after the gadget's opening weekend.
High end Apple iPhone trade-ins have also increased by 68.97% within the same time frame, suggesting that people are changing brand from Apple to Samsung in the hype surrounding the device.
This is the first time a non-Apple smartphone release has sparked such interest according to site data, especially as it has been widely reported that US and UK stock shortage for the Galaxy S4 means many consumers have not been able to get their hands on the device yet.
Previous predictions
However, a large increase was predicted by CompareMyMobile.com based on previous data. Following the announcement of the S4 on 22nd March the site reported a 23% increase in Samsung valuations. By the 28th March the site was seeing a huge 127% rise in Samsung valuations, with actual trade-ins increasing by 29%.
The trade-in market share shows the changes
In fact, Samsung devices make up 17.2% of all trade-ins from 4,000+ devices on the site, a 5% increase on the month running up to the release. This places the Samsung brand third in the list of top traded, with Apple trade-ins making up 44.5% and Blackberry 19.3%.
Recent statistics do further suggest popularity with newer Android devices, with Apple losing a 6% share in overall trade-ins since the release of the S4, Blackberry Z10 and HTC One.
Co-founder of CompareMyMobile.com, Ashley Turner, says, "With the huge sales figures posted by Samsung and 50% of all trade-ins Q1 of 2013 being Apple devices it's goes to show that Samsung have struck a formidable blow with the Galaxy smartphone range."
Samsung device values are dipping
The data also shows a reduction in Samsung device values. Usually Samsung devices lose 10.94% over 90 days – but the S4 announcement meant they lost 10.85% on the top devices within 24 days.
The top 5 traded Samsung's have dropped in value particularly, with an average percentage fall of 12%.
What will happen next?
CompareMyMobile.com do not think they have seen the end of the surge in online trade-ins just yet. With reports of stock shortages, people could still be waiting to upgrade to their new Samsung device.
Ashley Turner says, "It will be interesting to see the Samsung Galaxy S4 first week sales figures, with the reported stock shortages it could be a long steady increase in trade ins with consumers unable to get hold of the new Samsung device."
The data does not show the end of Apple as a leading brand either. They still hold the position as top traded-in brand on the site with a 44.5% share and future announcements, expected within the next year, are predicted to cause a huge surge in Apple trade-ins once again as people upgrade to the latest device.
About CompareMyMobile
Founded in 2009, CompareMyMobile is the UK's #1 source for independent mobile phone, tablet, sat nav, laptop, iPad, iPod and games console recycling price comparison. It delivers customers confidence in making the difficult decision of where to recycle their old phone safely and for the most money. CompareMyMobile is 100% impartial, comparing prices from more than 40 recycling stores.
Media Contacts
Andrew Beckett
CompareMyMobile.com,
Tel: +44 (0) 7810 882 278
Email: andrew(at)comparemymobile(dot)com