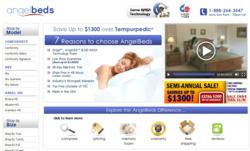 I've been recommending AngelBeds to my patients for over three years and have heard nothing but rave reviews from them.
Houston, TX (PRWEB) November 08, 2011
AngelBeds, a leading memory foam mattress retailer announces the launch of their new website that can help shoppers make an informed buying decision when it comes to purchasing mattresses, mattress pads and pillows. Online visitors can now compare different brands and pricing options, along with the ability to explore warranty options and read reviews from recent buyers.
Too often than not, consumers are relegated to purchasing mattresses by simply testing the comfort level of the bed at a retail store. To help protect their investment, the features found on AngelBeds.com can help shoppers make a better informed buying decision.
Alongside a pricing guide, the site features warranty information that can save money throughout the lifespan of an AngelBeds' mattress. Warranty features by AngelBeds include a 20-year limited warranty on all mattresses and a 10-year full warranty.
The site also offers no-interest financing for up to 48 months with credit approval. The company hopes that by undertaking this task online, buyers won't be bogged down in mattress stores while they apply for financing options.
Shoppers can compare Tempur-Pedic® with AngelBeds products through AngelBeds.com and the site also hosts a variety of reviews and testimonials for prospective buyers. With over 100 testimonials via Epinions.com, an unbiased reviews site, buyers are encouraged to read into what others buyers think about a full selection of AngelBeds products. Dr. Brendan Wright, President of Spinal Pain Relief Center, P.C., attests to the effectiveness of AngelBeds for patients suffering from chronic back and neck problems.
"I've been recommending AngelBeds to my patients for over three years and have heard nothing but rave reviews from them," Wright said.
This newly launched site lays out the different sizes and measurements along with pricing options. AngelBeds also offers adjustable bases, pillows, bedding, memory topper, cashmere throws and more. With a plethora of information available on the new website, buyers can better streamline and ease the process of shopping for a mattress and other sleeping materials.
About AngelBeds
AngelBeds.com prides itself on offering consumers high-quality memory foam sleep systems at a fraction of the costs of its competitors. AngelBeds is a memory sleep system manufacturer that offers consumers with NASA-developed HD (higher density) foam technology. As one of the first company to utilize this technology, AngelBeds relieves pressure & stress while conforming to every contour of the body. This scientific breakthrough is what makes AngelBeds memory sleep system the best on the market today.
###