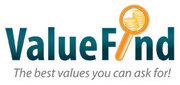 "ValueFind's goal is to allow a consumer to capture values not available in traditional brick and mortar stores," says James Finseth, President of ValueFind. "Merchants compete not only on price but on added perks which creates a better product."
Hermosa Beach, CA (Vocus/PRWEB) February 28, 2011
ValueFind is now offering a new feature called "Ask for It!", which gives merchants the ability to compete on value in addition to price. Sure, price is important, but value can take many different forms. By using the "Ask for It!" feature, registered merchants now have the option to offer perks such as free shipping, gift wrapping, and quantity discounts in addition to price reductions, giving them a competitive advantage without dwindling margins. This is an excellent benefit for small to mid-size merchants who may not have the capability to slash prices. Motivated buyers can request what they want and sellers can accept or submit counter-offers, ensuring a win/win situation for everyone.
There is no need for merchants to list, upload, or update their products (i.e., there are no tedious product feeds) and there are no up-front fees for listings, referrals, or subscriptions. Sellers receive free leads and ValueFind only collects a low 3.5% commission on the successful completion of a sale. ValueFind's simple interactive interface makes it easy for merchants to review requests from buyers, send offers, and view a summary of their completed orders. Sellers can sign up directly on ValueFind's website at https://www.valuefind.com/seller/register.php.
Originally founded in 1998 as one of the first comparison shopping sites, ValueFind strives to deliver a better breed of online shopping by helping value-conscious shoppers find the best values for millions of products in more than 25 product categories. ValueFind searches over 11,000 trusted merchants to find the best values available, allowing shoppers to find and buy exactly what they need without spending valuable time sifting through countless websites. Plus, with "Ask for It!", ValueFind takes it a step further by personalizing the experience and allowing buyers to locate products that meet the specifications that are most important to them. In a nutshell, the buyer defines what constitutes a value! For any given category, the buyer can make a request to purchase an item at a particular price or with any perks they might want, such as free shipping or free gift wrapping. Multiple sellers can then offer the buyer the product, propose changes to the buyer's request, or reject the request.
Contact:
James Finseth, President
ValueFind, Inc.
34 Hermosa Avenue
Hermosa Beach, CA 90254
###