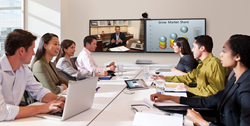 The yardstick by which we measure Interoperability is the ability...to connect with others using any device on any network and without needing assistance...
Henderson, NV (PRWEB) March 05, 2014
Jules Trono, President & CEO of Compass Business Solutions, spoke in a VCI Live session today titled, "Interoperability – Is It Still an Issue?" The session examined visual communications in the Information Age and the factors that make or break interoperability.
Network, security, devices, protocols and usability all affect interoperability, but from a user standpoint the only thing that matters is making a connection. 14 years ago only 70,000 devices were connected to the Internet. Now there are more than 8.7 billion devices connected and that is expected to double in the next 4 years making the need for seamless interoperability a high priority for many organizations.
"The yardstick by which we measure Interoperability is the ability for an end-user, someone who is not part of I.T. or the support staff, to connect with others using any device on any network and without needing assistance in making the connection or using the technology," stated Jules Trono. "It is a challenge faced by both our customers and the major manufacturers. Innovation moves quickly in communication industries, and new standards along with competitive advantages often affect interoperability progress."
Participants in the session indicated that interoperability is still an issue, and they would know with an average of 9 devices per person connected to the Internet. While the quality of visual and unified communication has improved over time, they unanimously agreed that there are still gaps that impact us.
"Non-technical professionals do not have time to become technology specialists," said Donna Wyvill, Content Development Manager for Compass. "With a smartphone, laptop, tablet, video system and desktop telephone all available to most professionals, it can be overwhelming to follow a bunch of convoluted rules when trying to figure out how to schedule or make a call." If the communication solution does not allow a person to choose their device, and then communicate using any combination of audio, video, or sharing of documents and data, then it is not truly interoperable.
Companies or students interested in learning more about Compass' training programs in the US and globally can visit http://www.compassprogram.com, and can contact Lisa Santiago at +1 (760) 688-4045 or +1 (877) 234-0635 for more information.
About Compass Business Solutions
Compass, the largest global provider of visual communications and videoconferencing product line training, provides a one-stop resource for sales, technical and end-user training.
Compass Business Solutions is a learning company focused on helping people use and support video and unified communication technologies to improve their business. Training sessions follow a best practices approach to optimize all aspects of video usage and support. Compass was founded in 2008 by industry professionals who have been working with telecommunication and video technologies since 1989 and who helped launch Tandberg University in the USA in 2006, then becoming Cisco's first authorized TelePresence Specialist Learning Partner in the US.
Compass is a certified WBE/WOSB.