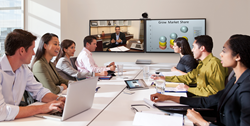 Student education needs are shifting as the products become capable of supporting truly unified communication
Henderson, NV (PRWEB) May 06, 2013
Compass Business Solutions has always offered advanced level telepresence and videoconferencing technical training. As Cisco expands its curriculum to provide students with a path to building a successful unified collaboration career, Compass expands its focus to include voice communications.
"The value Compass brings to our customers is making our unique experience with video communications and our strong partnerships with manufacturers like Cisco available to our students," stated Jules Trono, President of Compass. "As product lines shift to enable collaborative voice and video communication, we will continue to stay ahead of the technology to add value for our students." Compass is the largest provider of telepresence and videoconferencing training in the US and also offers private training sessions globally.
"Student education needs are shifting as the products become capable of supporting truly unified communication," stated Jason Ball, Sr. Instructor with Compass. "This is definitely the direction of voice and video communication moving forward."
Students or companies interested in learning more about Compass' training programs in the US and globally can visit http://www.compassprogram.com, and can contact Lisa Santiago at +1-760-0688-4045 or +1-877-234-0635 for more information.
About Compass Business Solutions
Compass, the largest provider of telepresence and videoconferencing product line training, provides a one-stop resource for sales, technical and end-user training for visual communication products (compassprogram.com).
Compass Business Solutions is a learning company focused on helping people use and support video communication and telepresence technologies to improve their business. Training sessions follow a best practices approach to optimize all aspects of video usage and support. Compass was founded in 2008 by industry professionals who have been working with telecommunication and video technologies since 1989 and who helped launch Tandberg University in the USA in 2006, then becoming Cisco's first authorized TelePresence Specialist Learning Partner in the US.